About Cheow Lan Lake
This magnificent man-made lake covers approximately 185 square kilometres. Emerging from the cool water are limestone karsts, traces of a coral reef system that once stretched from Borneo to China. These dramatic limestone formations, some of which reaching an impressive 960m, are dense with cycad palms that have thrived since the dinosaur-era and host a spectacular array of life.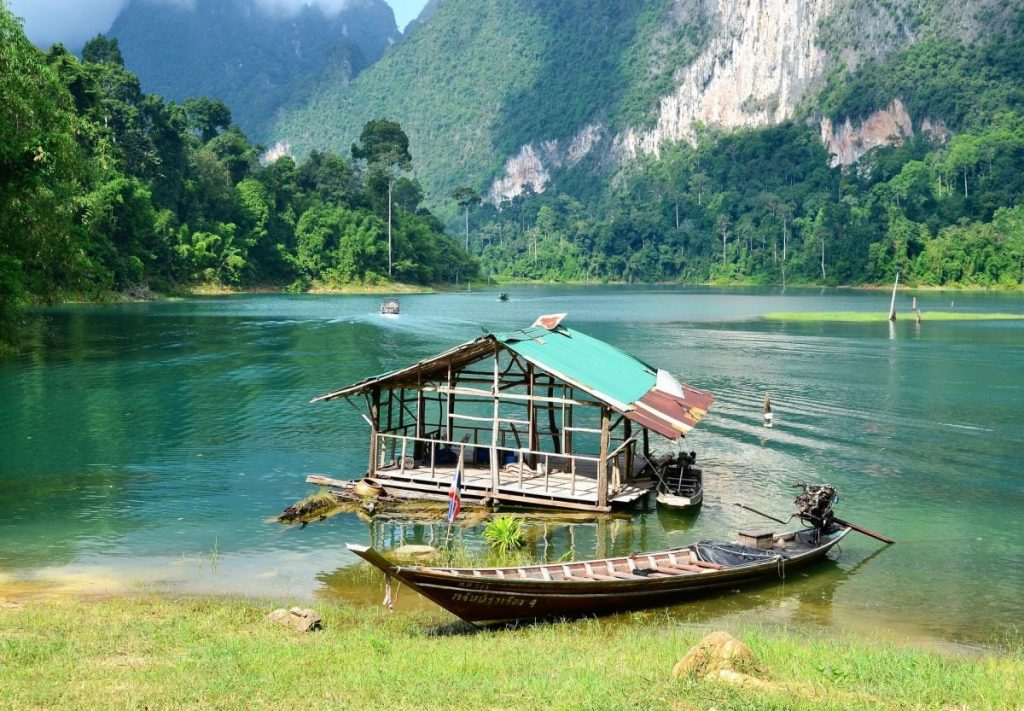 Cheow Lan Lake formed in 1982 by a shale-clay dam called Ratchaprabha. Since its tucked away in the thickets of Khao Sok National Park – an area that remains relatively untouched and protected. Therefor the environment thrives and teems with magical biodiversity. The scenic body of water stretches its klongs (Thai word for river or waterway) inland reaching out for the rocky ridges and crags.
Klongs (waterways) of Cheow Lan Lake
There are several klongs sprouting from Cheow Lan Lake. Klong Ka is the easiest to get to being the closest to Ratchaprabha pier. Highlights here include travelling past the mesmerising Gui Lin viewpoint boasting many of the jutting limestone karsts. As well as easy hikes on flat terrain, enveloped by mountains and tall lush grass. This is the home of Pra Kay Petch cave, also knows as Diamond cave, one of the best in the park with awesome stalactites and stalagmites, and many bats.
Klong Pey
Klong Pey is 2 hours from Ratchaprabha pier. Here you will find some of the best trekking along the trail to Nam Talu cave (January – April only). Journeys to this massive, almost 1km cave are often made at night when nocturnal life is aplenty. With a headlamp strapped to your brow, splash through waist-deep water in the cave keeping an eye out for nightly visitors like bats, spiders and crabs. The valley surrounding the cave has an interesting history as it was used as a sanctuary for foot soldiers and communists.
Klong Yee
The third waterway, Klong Yee is remote and secluded and falls within the wildlife sanctuary, along with its neighbour, Klong Wong. This means it features abundant animal life against a peaceful backdrop of water and jungle – ideal for kayak trips and nature safaris. Another highlight is a gorgeous waterfall hike (April to December) and a walk to the Krai Son viewpoint that overlooks a breathtaking valley.
Klong Saeng
Klong Saeng is Cheow Lan's north-western waterway and was once Thailand's largest river before the lake was made. It is the longest trip, nearly 3 hours by boat, but so worth it. This wildlife reserve requires special consent (and an extra fee). A park ranger will lead you into the natural riverine setting where you have a good chance of spotting wild elephants and deer.
Klong Mon
Klong Mon is distinguishable from its many elevated hills and valleys. This is a fantastic choice for bird-watching with its peaceful rocky outcrops. Often spotted here are Grey eagles and hornbills. There is a trail from Klong Mon to Klong Saeng but you need to notify the Khao Sok park ahead of the time as you need to be accompanied by a ranger.
Klong Mon is also an awesome spot if lure fishing is your sport! Get your adrenaline pumping and ask about snakehead fishing. Three types of snakehead are abundant in Khao Sok waters and the crowds of immersed trees make an excellent labyrinth for these predatory fish with their snake-like heads and sharp teeth. Other fish predominant in this area include jungle perch, mahseer and catfish. Cast-off from a long-tail boat while the sounds of the lake hum around you, a memorable catch for anyone who loves fishing.
Klong Long
Klong Long is the most popular and busiest klong due to the quick hike and raft ride to Coral cave (also known as Pakarang cave); boasting coral fossils over 10 000 years old. Also a 2.5 hour trek through deep jungle will lead you to the southern tip of the curve showcasing an impressive viewpoint.
Things to do on Cheow Lan Lake
We have the ideal selection of activities on Cheow Lan Lake to choose from. Not only will you explore the lake by boat, and go on a jungle adventure on our Cheow Lan Full Day Trip but you will also visit a local market. This is part of a community initiative allowing resident families to profit from the tourism in breathtaking Khao Sok National Park.
Long Tail boat cruising
Gllide effortlessly across the tranquil water on a long-tail boat. Grab your camera as a Peregrine falcon soars the blue heaven, taking his pick from the shoal of silvery fish darting in the cool water below. Peaceful trips on the lake make it easy for you to spy on indigenous life that inhabits this sanctuary.
Keep an eye on the leafy trees for sudden swinging movements; it may just be a long tail macaque monkey or a naughty long-armed gibbon. You may even spot a wild boar with his thick curved horns or large sambar deer. If you're really lucky, catch a glimpse of the Malay sun bear – the world's smallest bear, basking in the warm glow of the sun.
Bird Watching
So you're an avid twitcher? Our Cheow Lan Lake Full Day Bird Watching Tour may peak your interest. There is no shortage of magnificent birds to see in Khao Sok National Park, with over 180 species of birds occupying these bushy crags including twelve species of kingfisher in various vivacious colour, hornbills and even the shy Great Argus.
Overnight Stay
If you have more time then the Cheow Lan Lake 2 days, 1 night Trip may be for you. The thriving jungle boasts a wide display of discoveries – birds, insects, amphibians, wildlife and even rare flora. Khao Sok National Park is home to the world's largest flower – the Rafflesia. The beautiful red flowers of this unique plant reach an incredible diameter of 75cm.
On a night trip, you are definitely in for a treat! As the sun disappears and the love calls of cicadas emerge from the thickets, be on the lookout for nocturnal creatures like the adorable slow loris, and maybe even a clouded leopard! Float beneath a blanket of stars as you hear bats flying overhead looking for an insect snack.
Hiking
If you're keen to dust off your hiking boots and head off for an adventure trekking along winding jungle trails in search of viewpoints, swimming holes, waterfalls and caves then the Cheow Lan Lake Wildlife Explorer Tour may be right up your alley!
Popular wildlife highlights of this adventure include wild elephants, sambar deer and the awkward pig-looking tapir.
How to get to Cheow Lan Lake
There are a few options when making your way to Khao Sok National Park, depending on where in Thailand you're coming from.
When you disembark from your transport – local taxis will be waiting to take you to the entrance of Khao Sok National Park or if you're up to it you can take a scenic walk.
Plane
If you're flying from Bangkok, the closest airport is Suratthani. Phuket airport has a bigger selection of flights, and although Krabi airport is the same distance to the park, getting there via public transport is a little more complicated.
A one-way economy flight from Bangkok to Surat Thani costs about
฿1500 – ฿3000 (depending on season and time of flight).
Train
Bangkok to Surat Thai, there are several trains every night but the 19:00 train arrives in Surat Thani at 6:00 (but please note these trains are often delayed).
Bus
Getting to Khao Sok from Surat Thani is simple; there are also regular bus services from Phuket that stop in Khao Lak and Takua Pa.
Bangkok Southern terminal (Thonburi district) – Bus leaves at 18:40 and arrives 4:30. Cost ฿520. The bus stops in Ban Ta Khun, 10 minutes' walk from the Khao Sok office (where you can purchase tickets to the lake) but because it arrives early, you will have a lengthy wait for it to open.
Takua Pa – Bus leaves every hour between 6:00 and 18:00 and the journey takes 1 hour. Cost is ฿40 – ฿60 depending on the class of bus.
Surat Thani – Bus leaves every hour between 6:00 and 18:00 and the journey takes 2 hours. You will be dropped at the access road to Khao Sok along Route 401 and will have to walk to the entrance. Cost is ฿120.
Phuket – Bus leaves every hour from 6:00 am until 16:00 and the journey take 4 hours and includes stops in Khao Lak and Takua Pa. Cost is ฿160 – ฿180 depending on the class of bus.
The Khao Sak National Park gate is 1.6 km from where you're dropped off on Route 401. To catch the bus back to Surat Thani or Takua Pa, simply head back to the bus stop on Route 401.
From Takua Po it is possible to transfer to buses to Bangkok, Khuraburi, Khao Lak and Phuket.
Minibus
A minibus is better known in Thailand as a van. They are easy to book from where you're staying or at your closest minibus terminal.
Bangkok – Leaves 15.00, journey takes 11 hours. Cost is ฿700.
Ko Lanta – Leaves 8:30, journey takes 5 hours. Cost is ฿700 including boat fare from the island.
Ko Pha Ngan – Leaves 7:30 and 13:30, journey takes 8-9 hours. Cost is ฿650 including boat fare from the island.
Ko Phi Phi – Leaves 8:00, journey takes 7 hours. Cost is ฿750 including boat fare from the island.
Ko Samui – Leaves 7:30 and 13:30, journey takes 6-7 hours. Cost is ฿550 including boat fare from the island.
Krabi Town / Ao Nang – Leaves at 8:30 / 14:30 and 16:30, journey takes 3-5 hours. Cost is ฿450.
Surat Thani – Leaves at 6:30 / 7:00 / and then every hour until 16:00, journey takes 1.5 hours. Cost is ฿250. If you're heading to Surat Thani airport, the cost is ฿300.
Private taxi
Private taxis heading from the South mainland are easy to book. A standard motorcar can fit around 4 passengers while a bigger car can fit about 6 passengers with a spacious trunk (also depends on luggage).
Approximate cost per car: Takua Pa (฿1500), Khao Lak (฿1700), Surat Thani Airport (฿1700), Krabi Town (฿2500), Ao Nang (฿2800), Phuket Airport (฿2500).
Car hire
You can hire a car from Surat Thani airport with a standard economy vehicle costing about ฿700 a day. Most vehicles have GPS and the entrance to Khao Sok National Park is easy to find. GPS coordinates 8°56′12″N 98°31′49″E.
Getting to the boat pier from the Khao Sok entrance is a breeze as the lake is close to the entrance. Many local taxis are waiting to take travellers to the pier or it'll be inclusive in your holiday package. For perspective – a 3 hour trip from Ratchaprabha pier will get you to the lake's furthest waterway in the north-west – Klong Saeng.
Cheow Lan Lake Accommodation
Scattered across the expansive lake, you will notice rows of bungalows reflecting serenely in the water. In your free time, grab a kayak and explore the remote Cheow Lan Lake on your own.
Watch the day melt into the distance and replaced with a fiery sunset. Delight your taste buds at an authentic restaurant as you feast on local Thai dishes using fresh seafood and vegetables. Wash it down with a local beer while being serenaded by the calls of nature.
After a fantastic night's rest, wake up to a rosy dawn and the sound of gibbon monkeys echoing from the misty outcrops. Take a refreshing dip in the warm water before starting your adventure for the day. These floating houses may be booked as part of your tour, or private hire – depending on your itinerary.
There are various levels of comfort and affordability when selecting accommodation for your stay on Cheow Lan Lake. Booking is crucial as bungalows are subject to availability and prices are approximate and vary according to season. Dry season, perfect for hiking, is between November and May while the rainy June – October season is ideal for splashing around in bursting waterfalls.
Traditional Accomodation
Budget and eco-friendly bamboo raft houses that are mostly family-run, providing an authentic Thai-hospitality experience. Embrace the elements and unwind on a low bed in a back-to-basics thatch-roofed, bamboo house with hand-woven walls that blends perfectly with its natural surroundings. Approximate cost from ฿400 – ฿500 a night.
Krai Son Raft House
Krai Son Raft House offers basic but charming bamboo bungalows situated near Klong Yee and offers spectacular views of the lake, a bar lounge, complimentary kayak, a diving platform and an excellent chance of spotting wildlife.
Ton Toey Raft House remains one of the oldest raft houses on the lake. Expect traditional Thai-style bamboo raft houses with a backdrop of lush green jungle. A night visit to Nam Talu cave is easy from this location. Facilities like free kayaks and a bar lounge are also available.
Details: http://khaosoklake.com/travel-item/krai-son-raft-house-khao-sok-thailand/
Nang Prai Raft House
Nang Prai Raft House is located around the central point of the lake, and offers incredible panoramic views. These raft houses are situated near the Nam Talu and Diamond caves.
Details: http://khaosoklake.com/travel-item/nang-prai-raft-house-khao-sok-thailand/
Modern Accomodation
Middle comfort bungalows made of concrete or wood that include benefits such as raised beds, electric fans and modern walkways. You will also be pleased with a bar and/or restaurant. The approximate cost is ฿600 – ฿1000 a night.
Sai Chon Raft House
Sai Chon Raft House is halfway to the rocky Klong Long bay and provides both rustic wood and modern concrete bungalows. Fantastic views, ideal for families or groups, a popular choice for locals and easy access make this a good choice.
Details: http://khaosoklake.com/travel-item/sai-chon-raft-house-khao-sok-thailand/
Smiley Floating Bungalows
Smiley Floating Bungalows is situated at the entrance to Klong Pey and is both owned and run by one of the oldest families in Khao Sok. Their facilities include modern bungalows most of which have private bathrooms, and a wonderful restaurant offering authentic Thai cuisine. Close to Nam Talu cave and Klong Saeng Wildlife Sanctuary.
Details: http://khaosoklake.com/travel-item/smiley-raft-house-khao-sok-thailand/
Chiew Lan Raft House
Chiew Lan Raft House is hidden in a secluded alcove on Klong Long, and close to Coral Cave. These bungalows are rustic but inviting with private bathrooms and a diving platform. The raft house is extremely popular with Thai travellers and their karaoke is a must. However, if you require a more peaceful evening, selecting alternative accommodation is advised.
Klong Ka Raft House
Klong Ka Raft House is in a remote area at the southernmost tip of the lake. It offers farmhouse-type family-sized bungalows as well as 2-person bamboo huts. Rooms are basic but lovely and this part of the lake boasts access to fishing gear, bamboo raft safaris and hiking access to Diamond Cave.
Details: http://khaosoklake.com/travel-item/klong-ka-raft-house-khao-sok-thailand/
Plern Prai Raft House
Plern Prai Raft House is almost half way up Klong Long and is easy to reach. There is a choice between traditional and modern bungalows, set amongst limestone karsts. Highlights include access to Coral Cave and occasional mobile reception!
Details: http://khaosoklake.com/travel-item/plern-prai-raft-house-khao-sok-thailand/
Putawan Raft House
Putawan Raft House boasts standard and deluxe rooms. It is ideal for family and romantic retreats and popular with local travellers. Thus, you may even have an opportunity to practice Thai. The raft house offers a diverse restaurant and gift shop and the area is situated nearby both Diamond and Nam Talu cave.
Details: http://khaosoklake.com/travel-item/putawan-raft-house-khao-sok-thailand/
Prai Wan Raft House
Prai Wan Raft House is at the northernmost top of Klong Long and provides charming bamboo houses. The raft house is set against a serene jungle backdrop and is close to Coral cave. Since it is so remote, it is often the location for yoga retreats and health seminars. Anticipate gracious staff, a snack shop and one of the greatest restaurants on the lake.
Deluxe Accomodation
If you don't feel like giving up your luxury comforts (especially during rainy season when hiking or safaris are difficult) then you may want to check out the deluxe floating bungalows. These raft houses feature hardwood interiors, private bathrooms and often include air-conditioning. Approximate cost from ฿2000 – ฿9000 a night.
Panvaree Deluxe Floating Villas
Panvaree Deluxe Floating Villas are beautifully carved wooden villas that boast both family and honeymoon suites with air-conditioning, hot showers, a kayak per room and satellite TV. In a private alcove, the location is perfect and still close to Gui Lin viewpoint, Coral and Diamond cave. The superb restaurant provides cooked-to-order meals.
500 Rai Deluxe Floating Bungalows
500 Rai Deluxe Floating Bungalows, remotely located in Klong Long, is privately owned and offers a luxury experience. This includes attentive staff, gorgeous wooden interiors, private bathrooms with hot water and air-conditioning. There is also a full bar and excellent restaurant. The resort also offers activity packages together with accommodation packages.
Details: http://www.500rai.com/
Keeree Warin Deluxe Floating Bungalows
Keeree Warin Deluxe Floating Bungalows are located at the entrance to Klong Yee in a secluded inlet. These premium hardwood 2-storey villas offer a private island, stunning views, fantastic staff, private in-room bathrooms and hot water.
Details: http://khaosoklake.com/travel-item/keeree-warin-soating-bungalows-khao-sok-thailand/
Phupa Waree Deluxe Floating Bungalows
Phupa Waree Deluxe Floating Bungalows are located in Klong Wong and offer a rope swing, diving platform and a lovely two-storey restaurant. Enjoy a luxurious lake experience – stand on your porch and absorb the amazing views especially the sunrise!
Details: http://khaosoklake.com/travel-perior-floating-bungalows/
Different Tours available on Cheow Lan Lake
Here is the list of different tours and activities available on the lake.
Cheow Lan Full Day Trip
Fairy-tale scenery of towering limestone cliffs and over 100 islands jutting skyward. Cheow Lan Lake is one of the most spectacular places on earth. Take in the beauty, wildlife, and tranquillity of Khao Sok National Park with a day trip to the lake.
During the day you will visit a colourful local market. Then spend the rest of the day hiking through the virgin jungle, swimming, exploring a cave, kayaking, or just relaxing amidst the stunning limestone cliff scenery.
Cheow Lan Lake 2 days, 1 night Trip
An ideal way to really enjoy Cheow Lan Lake, this 2 day 1 night tour. The tour includes a 3 hour boat ride into the heart of the lake. Feel humbled as you pass the magnificent limestone karsts into the jungle of Klong Saeng Wildlife Sanctuary. While on the lake or trekking through the jungle, spot indigenous species, such as the Malay sun bear or the introverted Great Argus.
Head back to your floating bungalow for some free time. Before a dinner of freshly-caught fish from the lake. You will look forward to retire to your bed where you'll feel lulled to sleep by the soothing sounds of nature.
Cheow Lan Lake Full Day Bird Watching Tour
Grab your binoculars and uncover the magnificent birdlife fluttering around the river. The many sweeping fields, the jungle or Cheow Lan Lake's Klong Sang Wildlife Sanctuary.
Learn fascinating facts like unique bird behaviour and distinctive calls. Look forward to spotting hornbills, pittas, barbets, sunbirds, bee-eaters and up to twelve species of kingfisher in assorted vivid colours. If you're extremely lucky you may even spot the very shy Great Argus!
Cheow Lan Lake Wildlife Explorer Tour
Explore the jungle. This 2-day, 1-night tour will take you deep into the lake, go on an adventurous jungle hike. You may spot sambar deer, hornbills, and the wild guar buffalo. Rare wildlife such as elephants, sambar deer, and tapir are also popular here.
Take a 3-hour boat ride through the spectacular limestone formations to the pristine jungle of the Klong Saeng Wildlife Sanctuary.Then, a delicious dinner of fresh fish from the lake is ready to wrap up your day. You will fall asleep in a lovely floating bungalow to the symphony of gentle sounds from the jungle.