Bangla Road – Epicentre of Phuket Nightlife
Friday, January 22, 2016
Uncategorised
by
admin
Bangla Road, Patong, in Phuket is notoriously named for its very energetic and lively nightlife. Bangla Road is a must visit if you head to Phuket. The nightlife is at the top of its game. It is literally packed with a ridiculous amount of bars, go-go bars, girly bars, ex-pat bars, where drinks, women and music are the standard. Bangla Road is quite simply the sex capital of Phuket. If you are a single guy, then the night will no doubt be very entertaining whatever you choose to do.
As soon as the sun starts to set, Bangla Road closes off the traffic. The neon lights and bars start to become lively. The women and ladyboys start to head out and fill the road up. The music from all the bars starts to intertwine with each other. It becomes noisy, fun and energetic.
There are many side roads (called Soi's in Thai) that lead off from Bangla Road. Here you will find even more bars, and mini clubs packed with girls and lady boys. Some of the best Soi's to visit are Soi Easy, Soi Gonzo, Son Eric, Soi Crocodile and Soi Seadragon. Soi Seadragon is probably to the most popular road off Bangla Road, with a reputation for the best go-go bars (go-go bars are girly bars).
Bangla Road in itself is an experience to be had. It's like heading into some kind of fantasy zone. In most other countries, they wouldn't dare have a place like this. But it's not a bad thing. It's just very eye opening. The vibe is lively, and violence is not tolerated. Of course, you will get the odd person who has drunk too much, or who is too loud. But in general, it's a safe area for what it is.
Police are reasonable who patrol the road at night. You will see them in the grey or brown uniforms. Some are very friendly and helpful. They are just there to make sure things don't get out of hand. Probably because you don't get big bouncer type guys at the doors, so need some kind of authority.
Hosts and promoters do fill the street, always trying to grab your attention to come into their club. It is great but can get frustrating at times. This is all part the nature of Bangla Road. You can haggle with them, especially if you are in a larger group. The promotions they offer can sometimes include a free drink, a free shot, a free dance. It's good to check out a mixture of places, everywhere has women, so that is not a short.
If you want to experience the best of Bangla Road in one night, it's better to have a local guide with you. There are also bar crawls organised by nightlife professionals who will take you to the best spots and reveal the secrets of Phuket nightlife.
Patong, Bangla Road Drinks and Bar Girls
The drinks in Bangla Road are very reasonably priced in most cases. For a beer you would be looking about 60 – 80 baht. That is just over a $2. Cocktails and whisky can be around 150-180 baht ($5ish). If you do head out to meet women, then be prepared to buy them drinks. Especially if you are talking with a bar girl.
Bar girls here know the game, they are paid to make money for the premises they work in. Making money means bringing in punters to buy drinks. The cost of a drink for a bar girl is usually a bit more than average. When you look at the receipt, you will notice in some establishments – bar girl 30% on top of drink price. If you plan to take a bar girl home, then you will have to pay the bar a fee.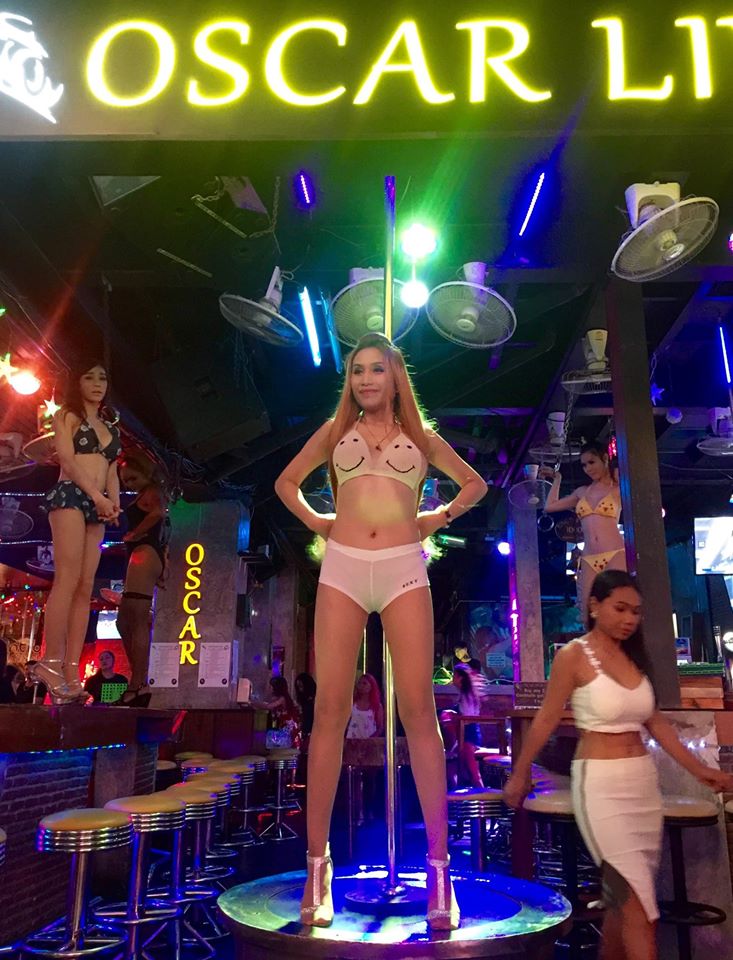 This varies from bar to bar, but usually between 300 – 1000 baht. Of course, this depends on how busy the bar is, high and low season, and so forth. The bar fine doesn't include what you would pay the girl to spend the night with you. That can be discussed between you and the lady.
All this may all come across seedy to some, but it's just normal when you are in Patong. Even more normal when you are drunk and roaming the streets of Bangla Road, Patong.
You can not compare Phuket Bangla Road to somewhere like London, or New York. This kind of stuff doesn't happen so openly.
Bangla Road Ladyboys
The ladyboys who work on Bangla Road, some are absolutely stunning. When you have had a few drinks, it is very hard to tell them apart from the real girls around. Some look much prettier than normal girls.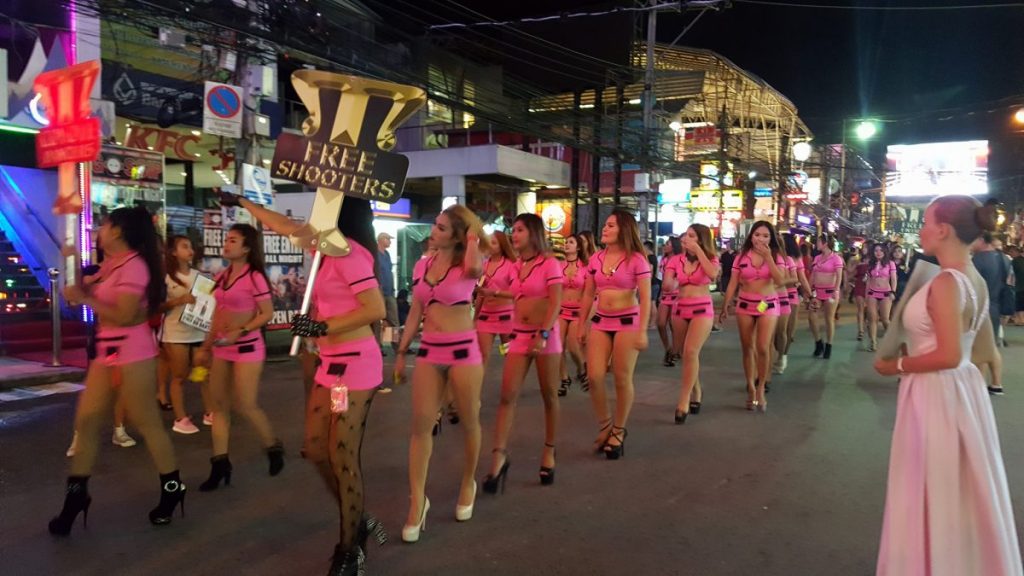 Thailand has some of the best cosmetics in the world, and obviously, this shows just by looking at some of the ladyboys. Beware, it's not a good idea to cross a ladyboy, they can get very angry. Just keep your wits about you at all times.
Bangla Road is not only bar girls and ladyboys in the bars, but you will get independent girls just trailing the streets. This can be looked at like prostitution if you look at it that way. But when you are in a world like Bangla Road, you are far away from anything you have experienced before on a night out. People do not judge here; it's an open place to be free. In some ways, that's what makes the vibe of Bangla Road so appealing.
Yes, you will see older guys with younger girls, this again can be a bit off-putting if you are not used to the setting. In reality, many younger women who work the bars prefer the older guys. The reason being that they would already have a decent backup regarding money. The older guys can be more stable, and can somewhat support the girl. Many Thai bar girls or independent girls look for this in a man.
Bangla Road Street Activities
Bangla Road has some great games based and set upon the street. Challenge yourself with hanging on the bar for more than 2 minutes, and you win a whole bottle of whisky. Can you do this for 3 minutes? Then you get two bottles of whisky. Games are great and fun to play with friends challenging each other, when sober or intoxicated. They are fairly cheap too, costing around 50-100 baht ($2 -$4). A small tip, the bar rotates if you try to reposition yourself 🙂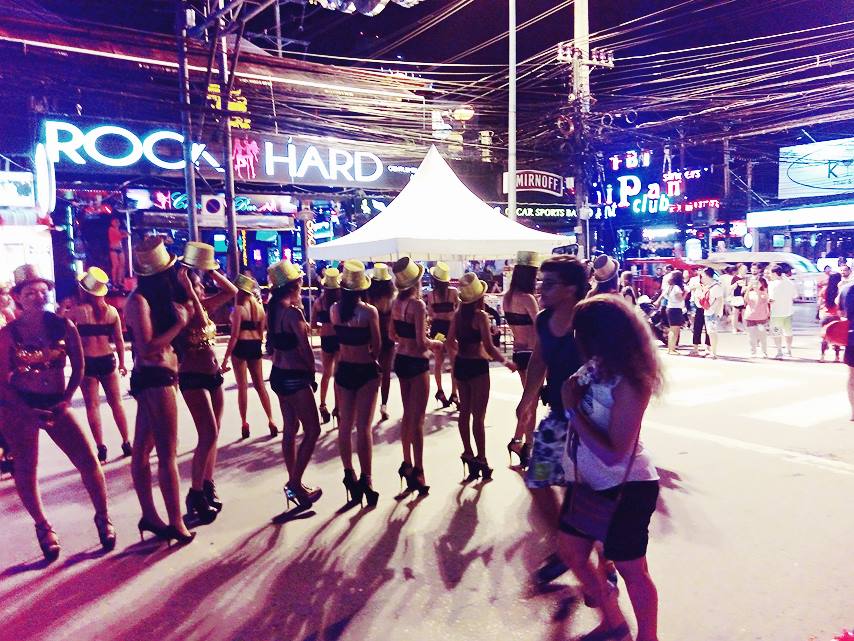 The street shows are also a great site, with some fantastic performers performing all sorts from fire-spitting, to magic tricks. Street performers usually show up when the road is starting to get busy. Around the 7/8pm mark, and stay throughout the night. If you start this early and plan to stay the duration, then you have one hell of a long night ahead of you.
Walking through Bangla Road you will undoubtedly come across Ping-Pong shows, and touts are trying to lure you in. Ping-Pong show is very popular for the tourist. It's something you wouldn't see elsewhere in the world. To put it simply, it is a show consisting of a woman using items in a dramatic way with her private parts. Yes, it does sound weird and it is, but it's an experience you won't forget. Usually, you don't have to pay to watch the performance, but the catch is, you buy drinks during the show. And the drinks in the Ping-pong shows can be quite expensive.
Bangla Road Virtual Reality
A new thing in Bangla Road that you will see if you head there now is the Virtual Reality machine. This is hilarious to watch, and it is a must see. If you walk past someone having a go, just spend a few moments to watch their experience. It's even more laughable when they are quite drunk.
Bangla Road Live Music
Aside from the bars, there are some very good live music bars on the road. Playing music throughout the night. Rock, heavy metal, djing, and lots more. A lot of the bands are local Thai. But saying that you do get some big named Asian bands that head there to headline sometimes.
If you are a musician, you can also join in and play on stage. This has happened many times on visits to Bangla Road. If you know how to play the drums, for instance, you can let the band know you want a go. This just adds to the fun and the vibe of the place. You will get a free drink or so at the end of your performance.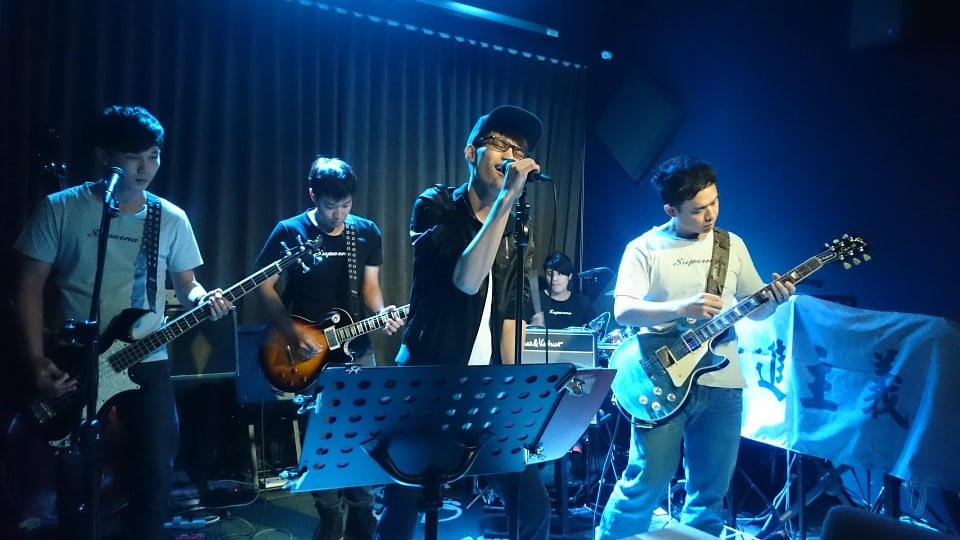 The most well known live music venue in Bangla Road would be New York Live Music Bar. New York Live Music Bar is renowned for the quality of the bands playing here. This is also one of the only places that are actually free of bar girls. Molley Malones is another great live music bar located near McDonald's on Bangla Road. You will find mainly acoustic laid back music in here to chill to. If Heavy Metal is your kind of music, then head over to Rock City. Great live Metal bands Fridays and Saturdays.
Bangla Road Nightclubs
Bangla Road is also home to some of the best nightclubs in Phuket, Illuzion and Seduction. It doesn't matter what time you head out to Bangla Road, be it 3-4 am in the morning, it will still be packed. These nightclubs are awesome, with some very loud music and great lighting systems.
Illuzion, for example, becomes extremely busy at certain times of the night, and it can be hard to get a drink.
The bar area crams up, and to avoid this, it is best to get the attention of one of the walking shot girls. These girls provide shots on the spot, tequila, Jager bombs, sambuca, etc. You will spot them carrying around these bottles, and wearing clubby outfits. These shots range from 150-200 baht ($4-$6), but it is very convenient for a top up.
You will find plenty of girls in here, many of whom come on a night out with friends, or bar girls who have finished working. The prices for drinks vary, beer being the cheapest about 100 baht ($4). Shots, whisky, and cocktails can become quite expensive in comparison.
The nightclubs are a hotspot for ladyboys too. This could be for many reasons. Perhaps to catch drunk guys who literally can not tell as they have their beer goggles on. Ladyboys can be very smart and deceiving, but in general, they are genuinely nice people.
There are other nightclubs around, slightly smaller Tiger Disco, and Lepas Place. But to be fair, if you just want to dance the night away, you don't have to go to a nightclub. There are plenty of bars and underground bars you can find on Bangla Road.
Another good place to visit is the Ice Bar, which is located at the beginning of the southern end of Bangla Road. It is small inside, and very cold. Jackets are provided. But being in the tropical climate of Phuket, it is sometimes nice to head into a very cold place, even if it's just for one drink. You come out feeling very refreshed.
Bangla Road Experience
The crowds on Bangla Road are good, and not rowdy. You can easily head out there on your own and mingle in with the people and the girls… Or even perhaps a ladyboy if that is your thing. No one cares, it's a good feeling to do what you want, but always be respectful. If you respect others, they will respect you.
There are so many places to visit on this road, and you will not visit half of them in a night, let alone a weekend or even a week!
Although Bangla Road has this aroma and sex vibe about it, it is in fact a brilliant night out! It's not for someone who doesn't have an open mind and is too conservative or judgmental. Bangla Road Phuket is, without a doubt, the most absurd place you can visit during the night. To enjoy this place, you need to shut off some thoughts and just go with the flow. Everyone is human, and everyone is up for a good time, that is why they are here!