Biking in Miami: how to rent and where to go
Monday, September 12, 2016
Cycling
by
admin
Biking gives you the flexibility to visit sights without renting a car or using Uber. The increase in bike paths and options for renting bicycles makes Miami more "bike friendly".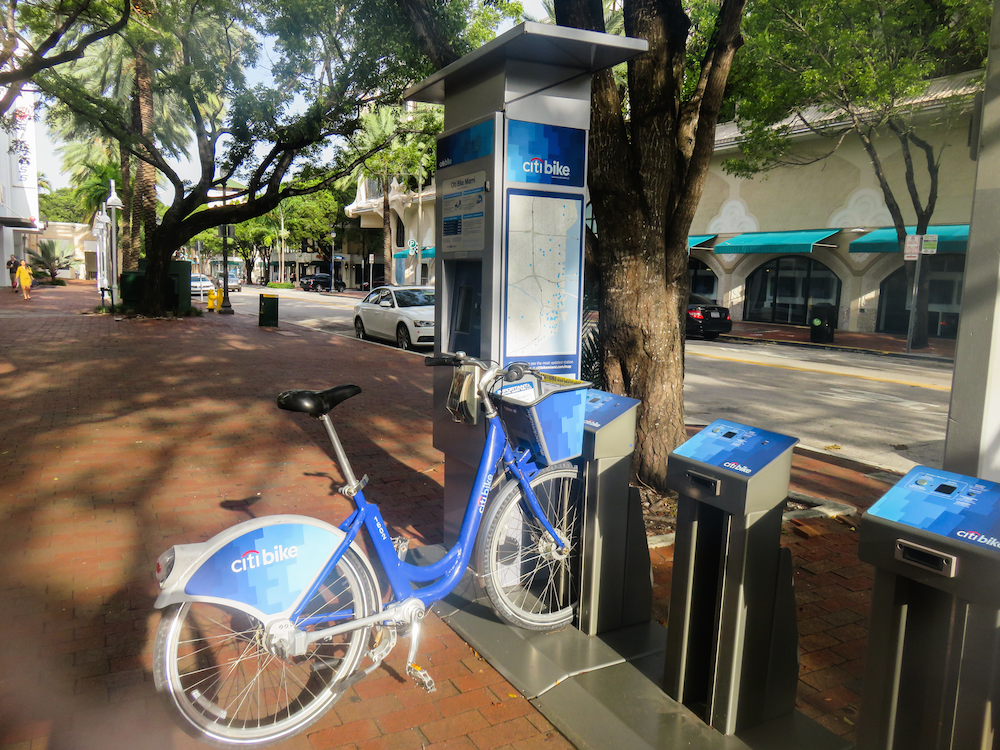 Where to go?
A good place to get an overview of best destinations for biking in Miami is Bike and Roll. There is a brief description of seven neighborhoods, their key sights, the distance from Miami Beach or Bayside Marketplace in downtown Miami, and estimated cycling time.
One neighborhood not included on this site, but a Miami "must see", is Wynwood. It is rated as one of the top Graffiti areas in the US along with New York City, Los Angeles, and Philadelphia.
Another stop to consider is the Miami-Biltmore Hotel in Coral Gables. Admire the bird cages and wooden paneling of the lobby and Grecian statues overlooking the outdoor pool of this National Historic Landmark.
Designated bike lanes make Key Biscayne a popular place to bike. The Bill Baggs State Park with peaceful sandy beaches is at the end of the key.
Fairchild Tropical Botanical Gardens is one of the treasures of Miami often missed by tourists who do not have a car.  The closest "bike sharing" station is in Coconut Grove. From there you bike approximately 5 miles to Fairchild Gardens. The bike rack is at the entrance. When you purchase your ticket, tell them you biked and $5 is deducted from the admission price. There are festivals at Fairchild Gardens throughout the year, so check their website for events.
How to rent a bike?
You can use the "bike sharing" program or rent a bike from a cycling shop.
The Citibike "bike sharing" program, once only in Miami Beach, added 75 stations in downtown Miami and Coconut Grove. Bike docking station locations are shown at citibikemiami.com. Bike rental, using your credit card, can be for 30 minutes ($4), 60 minutes ($6), day ($24) or month ($35). You can rent a bike, ride to your destination, dock your bike at a nearby station, explore the area, and then check out another bike and continue your ride. The sturdy three-speed bikes with large front basket are perfect for exploring the area.
Some cycling shops rent bikes. Bike And Roll have three locations for bike rental, two in Miami Beach and another in downtown Miami. Bike rentals are hourly or daily. Rates depend on the type of bike and range from $24 (single speed cruiser) to $40 (tandem bike) per day. They run a bike tour of Miami Beach and another one known as Little Havana and Wynwood Graffiti Tour.
If you are in the Brickell area, Brickell Bikes provides free delivery and pickup of a bike. A fee, depending on distance, applies outside of Brickell. Bike rental rates are 4 hours for $20 or a full day for $25. Place your order online at brickellbikes.com.
Miami Bikes will deliver and pick up a bike to your hotel, condo or residence for a fee. They provide standard bikes and eco-friendly Pedelec Electric Bikes.
In the Village of Key Biscayne, UltrabIkex rents bikes. There is no "bike sharing" station on Key Biscayne.
Plan your trip
Do you want to spend all day on the bike or just half an hour? What neighborhoods interest you? Plan how many districts you want to cover, time to cycle there, and how long you want to spend at each destination. Download your route with one of the available cycling apps or create a route in Google Maps. MapMyRide has cycling routes in the Miami area you can download to your smartphone.
If you are staying on Miami Beach, you can explore South Beach, bike along the boardwalk to North Beach, or cross the Venetian Causeway's six man-made islands to downtown Miami.
From Coral Gables or Coconut Grove, you can take your bike on the Metrorail train to downtown Miami or alternatively, if you are staying in downtown Miami, take the train to these destinations and begin your bike route there. If you want a more direct return to downtown Miami, take the Underline bike path that runs under the raised Metrorail. If it becomes too hot or you are caught in a sudden shower, there are bike racks on the front of public buses that can carry two bikes. There is no additional charge for bikes.
Tips for biking in Miami
Miami is hot, and brief showers frequently occur in the late afternoon. Take water, sunscreen, hat, a snack, and rain gear. Pack your bike helmet and lock if you will be using the "bike sharing" program.
Biking rules
If you have not cycled in Florida, look at the Florida state cycling laws. Technically you are required to have a permit to take a bike on the Metrorail train, but I have never observed anyone asked to show their permit.  Helmets are recommended, but not required over the age of 16.