Chiang Dao National Park – The Gem of Northern Thailand
Friday, January 22, 2016
Uncategorised
by
admin
Chiang Dao, a small town in the northern part of Chiang Mai. They call it the 'City of Stars'. As the limestone peaks reach a height of 2,186 metres, people used to believe the highest point is at the same level of the stars. Chiang Dao is the third highest peak in Chiang Mai after Doi Inthanon and Doi Pha Hom Pok.
Visitors can indulge the lush green rainforest, exotic limestone caverns and numerous waterfalls across the jungle. The wildlife offers a perfect destination for people who enjoy bird watching and trekking.
Aside from the stunning nature, you can also enjoy the unique Thai culture in Chiang Dao, for example, interact with locals in the hill-tribe village, explore the traditional market or learn how to cook authentic Thai food while you are staying in the village.
The town is quite small, but people find it is very peaceful and relaxing. It is a perfect place if you want to have a short gateway from the busy metropolitan cities.
Trekking in Chiang Dao National Park
Chiang Dao National Park was declared as a wildlife sanctuary and is the biggest attraction in Chiang Dao district. The national park is 1,100 km square and located close to Myanmar border. Here deep in the Thai jungle, you can find a variety of tropical flora and fauna.
For trekkers, Chiang Mai is a very popular destination as it has many national parks with an untouched nature. Compared to other national parks around Chiang Mai, Chiang Dao is the people's favourites. It offers a one-stop natural adventure from trekking, bird watching, caving, dipping in the hot springs and camping. A good fitness condition is a must to go trekking in Chiang Dao.
Overnight trekking is a very popular activity. This multiday activity can be for one, two or three days depending on your destinations and preferences. However, if you want to reach the top of the mountain, your best option is an overnight trip.
You can stay overnight at a hill-tribe village or a valley located halfway on your journey. Also, having the chance to enjoy the star horizons at night followed by watching a sunrise in the morning will perfectly complement your trekking experience. Throughout your journey exploring the Northern jungle, your guide will give you extensive information about the culture and wildlife of the area.
Explore the Chiang Dao Caves
Chiang Dao Caves are a must-visit site in Chiang Dao. It consists of over 100 caves, which are up to 12 kilometres far inside the mountain range. However, there are only five caves that are publicly open.
To get here, you can drive up north from Chiang Mai for an hour or book a guided tour from the city centre. The entrance fee is 40 Baht per person.
The five caves of Chiang Dao
The caves are filled with historical monuments, statues and Buddha images. Inside the cave, you will find many natural formations of limestone and crystal, as well as stalactites and stalagmites. The deeper you go, the more challenging it gets. Sometimes walking is not enough. At some point, you need to get down on your knees and crawl through small holes or climb in order to access large caverns. Nonetheless, you don't need any caving experience as all the pathways are made specifically for visitors.
The five caves are namely:
Tham Seua Dao
Tham Phra Nawn
Tham Maa
Tham Naam
Tham Kaew
Both Tham Seua Dao and Tham Phra Nawn have electric lights. Thus, it is easier to explore these caves on your own. The rest of the caves don't have any lighting. Therefore, you need to rent a gas lantern to be able to see inside.The gas lantern costs 100 Baht per lantern.
To explore these caves, it might be a good idea to hire a guide who will provide direction and information about the history of the place. There is no fixed price to hire a cave guide. Usually, it is a tip depending on how much you liked the tour. It is considered rude to give less than 100 Baht as the tip. Inside the cave there are many deep unmarked holes, hence going alone is not a good idea.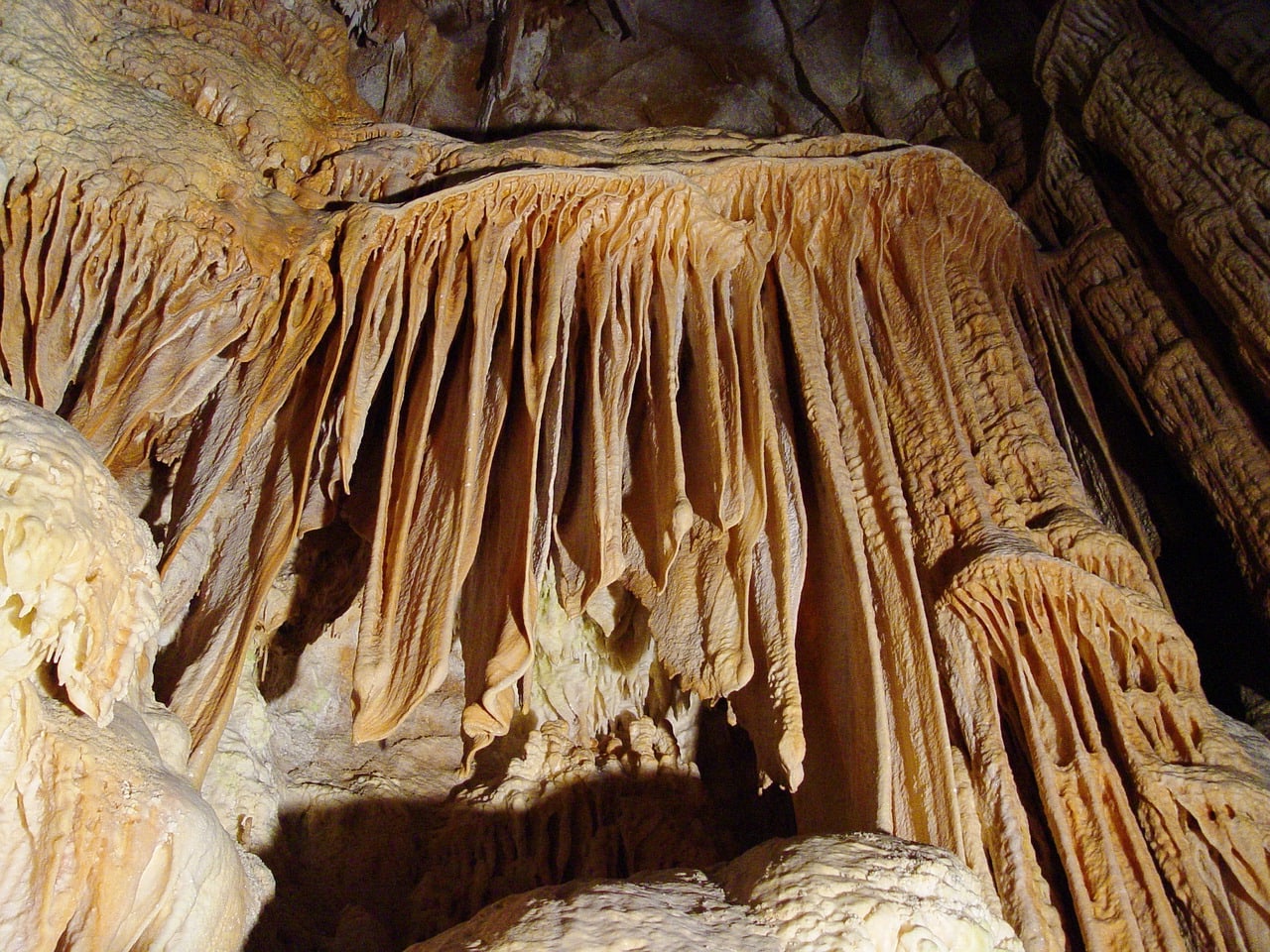 Due to the weather condition, e.g. in the rainy season, some areas of the caves get flooded with water. Therefore Thai authorities close the caves if the level of water is extremely high.
The Chiang Dao caves are not just natural landmarks. In North Thailand, caves are places of worship. Therefore, you need to wear an appropriate outfit. Hence, ladies who are wearing short clothes will be asked to pay a 20 baht donation to rent a sarong before entering the caves.
Visit the Karen Long Neck hill-tribe village
Chiang Dao has a lot more to offer than just stunning nature. If you walk further up from the caves, you will arrive at the Padung Village. This is where the Long Neck Karen ethnic hill-tribe lives.
Long Neck Karen is a tribal group who are originally from Myanmar, a country besides Thailand. The tribe women can be easily recognised for their elongated necks. They wear brass rings around their necks, wrists and ankles. Long Neck Karen people believe that these rings protect them from tigers. Today, this tradition has become a unique identity of the Long Neck Karen Tribe and a symbol of beauty. The longer their neck, the more beautiful the women are.
The men in Long Neck Karen village mostly work as farmers whereas the women inherit handcrafting skills from their ancestors on wood carving and weaving.
Doi Luang Mountain Peak in Chiang Dao
Doi Chiang Doi is the third highest mountain peak in Thailand. Located in Chiang Dao Wildlife Reserve area in Chiang Dao district, the mountain lies at 2,195 metres from sea level. Walking away from the heat of the tropical weather, you will find it's cool and windy once you reach the summit. Many rare highland flowers and birds and butterflies fly around making the view from the peak an unforgettable experience.
A small note for those who would like to visit the peak. The trip must be arranged at least two weeks in advance. Since it requires an approval letter from Director of Wildlife Reserve Division and the Royal Forest Department.
You can acquire it by getting it touch with them directly:
Wildlife Conservation Office Phone number is 0899 5514 17 and the Department of National Park, Wildlife and Plat Conservation phone number is 02 561 4832.
To reach the peak, you need to walk from the starting point of the trail. In case you need guides, porters or transfers to this point, there are plenty of operators ready to help you at the Chiang Dao cave. A porter costs around 300 Baht per person.
Since there are no facilities on Chiang Dao Mountain, you must bring your own equipment with you including sleeping bags, tent, food and water. The trails are quite challenging. However, there are some easier routs on the mountain that locals know of. In this case, hiring a guide might be a brilliant idea to get a safe and enjoyable experience trekking to Doi Luang Chiang Dao.
Temples hopping
Temple hoping is another popular activity you can do in Chiang Doa as a tour or a day trip. There are two temples you must visit when you come to Chiang Dao.
Wat Tham Pha Plong
Tham Pha Plong ss a temple with over 500 steps to the top. The temple is based in a small cave surrounded by the jungle halfway to the mountain top. Once you arrive, a steep naga stairways welcome you followed by the hundred steps to the top.
After climbing, you will reach the cave. Here you will find many photos of Luang Poo and images of Buddha. Luang Poo is a respectful Buddhist who had significant influence in Buddhism in Thailand. The temple was built to honour Luang Poo a few months before his death. It represents Luang Poo contribution the Buddhism and expression how grateful his followers are.
The location makes it a perfect place to do meditation. You can even arrange an overnight stay at this temple and experience the life a monk. The monks speak good English, and you will get to know their unique life.
Wat Mae Kaet Noi
Mae Kaet Noi is a bizarre temple nearby the caves. Like in most Thai temples, it's a magical worship place with beautiful architecture. However, this temple has a very unusual surroundings and view.
Here, you will see many sculptures that represent the story of bad Buddhist who fail to follow the rule and break the rules in the afterlife. These sculptures main goal is to scare young Buddhist and show them that the bad behaviours can lead to the terrible consequences. There are many creepy statues in the park e.g. picturing naked women or men being punished by demons. In general, it represents bad habits, as well as inappropriate activities common in the modern day Thai society like stealing, free sex, intoxication, lying and murder.
It took five years to build the park. Young Buddhists often lose their sleep over the terrible scenes the status display. The good news is that apart from the creepy park, you will see the incredible view of Doi Chiang Dao.
Flow through Mae Taeng River
Mae Taeng River flows through several districts in Northern Thailand, which are Chiang Dao and Mae Taeng Districts. The river streams through valleys and canyons, which go to the Chao Praya, then end up in the Gulf of Thailand.
Depending on which part of the river you are at, you can either get an adrenaline rush with white water rafting through the strong stream or explore the jungle on a bamboo raft or kayak.
The water flows depend on the season. On July to September, when the rainy season comes, the stream is very strong. While from October to March the water intensity is pretty low.
Tuesday Morning Market
Chiang Dao is indeed famous for its nature, but you can also find some authentic Thai activities here.
If you happen to stay at Chiang Dao at the right time, don't miss this Tuesday Morning Market. It is located just off the main route of 107 within a half a kilometre drive. You can find relatively cheap merchandises here ranging from Thai clothing and accessories, snacks and cold beverages and, of course, the handmade goods from the local hill tribes. Locals usually go here to buy food, household, healthcare supplies and kitchen equipment.
Pha Daeng National Park
Pha Daeng National Park is another national park in Chiang Dao district. The location is quite remote and compared to other parks. Pha Daeng is less commercial than other parks in the area. The entrance fee for this national park is 100 baht, and you can enjoy the national park, waterfall and hot springs.
Sri Sangwan Waterfall
The waterfall is the main attraction of this national park. The perk of this site is that only a few people usually visit this park. The peaceful setting and turquoise pools create a picturesque scene. The water falls from 50 metres above. Also, you can enjoy dipping into the water to cool off.
Pong Arng Hot Springs
This hot spring is a great place for a "hot bath". The hot springs are peaceful even during the bank holidays and weekends. There are two crystal clear hot pools and the temperature in the pools is similar to the temperature in a steam bath. Which most people find very relaxing.
Best time to visit Chiang Dao
Thailand has an amazing tropical weather all year long, however, if you are looking for a nature trek you might want to make sure you come at the right time.
Compared to Bangkok, the weather in Chiang Dao is relatively cool and more agreeable. Here, there are three seasons: cool, hot and rainy. Hot season sounds terrific, but you might want to go in the cool weather instead.
Cool season happens between December to February when the weather is cool during the day and even a bit chilly in the evening. This is the perfect time to explore the nature and enjoy the perfect heat.
Unless you love tropical heat, try to avoid visiting around April to June. At daytime, the temperature can reach 40 degrees Celsius.
Another season you should avoid is the rainy season, which usually comes from May to November. Exploring the jungle in a very hot or rainy day might be dangerous.