Complete guide to Phuket Nightlife
Friday, January 22, 2016
Uncategorised
by
admin
Phuket Thailand has an incredible nightlife. There is always something to keep you amused. No matter if it's the bright neon lit street bars, the clubbing scene of Bangla Road in Patong, Karon and Kata, or quieter wining and dining in Kamala.
If you are more of a show type head over to Kathu and enjoy one of the Cabarets shows that are on every night. Or perhaps head down to Rawai for a spot of night fishing with the locals on a long tail boat. Or simply jump in the sea at Kata beach and look at the stars above. Make sure you swim in between the swim signs, as the rips can be extremely dangerous!
Phuket's Nightlife centre is in Patong, Bangla Road, but spreads out throughout the districts. Phuket is the hotspot for most tourists, so each individual place has its own nightlife too, with its own experience to be had. Many party goers like to head to Phuket due to the ease of access to the other party islands. For example, Koh Phangan which is famous for its Full Moon parties is only a boat ride away.
The choice of things to do is extensive, and you will always find entertainment to suit your taste. Phuket is the destination choice for most tourists heading to Thailand for a good reason. The island is located on the South of Thailand surrounded but the beautiful Andaman Sea.  Featuring amazing white sandy beaches on all sides of the island.
A popular and distinctive outing which would, in fact, take you off the island completely would be to check out the large club on a Catamaran, named Hype. Located on the west side of Phuket. Mainly a day venture with a return just after dawn. With this trip, you get to see the stunning sunset, while in the crystal clear waters, sipping champagne if you choose, to some rather chilled out music played by live DJ's on Deck.
The seven main scenes of Phuket Nightlife, are Patong (with Bangla Road), Phuket Town, Kata Beach, Kamala Beach, Kathu Beach, Rawai Beach and Chalong Bay. The distance between them is nothing more than 500-700 baht (£10-14) in a taxi, even cheaper but longer if using a Tuk-Tuk.
Types of Phuket nightlife spots
Phuket Nightlife has an overwhelming variety of bars and night clubs. Go-go bars, girlie bars, Beer bars, Ooh-Wee bars, ladyboy bars, expat bars, traditional Irish and Australian bars/pubs (farang bars). And of course, some huge neon underground night clubs such as Illuzion just to name one in Patong, at the end of Bangla Road.
Go-Go Bars
These establishments are what some would call a mini nightclub/bar, where you will find featured girlie dancers. The girls usually dance around the bar, and on the podiums or platforms of the bar to set the mood for the customers. These bars are found in the red light district, but they are not restricted to this type of area.
Girlie Bars and Ooh-Wee bars
Girlie Bars and Ooh-Wee bars are similar to go-go bars. But they are quieter bars situated on the outskirts of these towns, that don't have the go-go bar dancers present. Thus the bar has quite a calmer ambience about it. However, the girls will still be shouting from the bar, if they spot you. They will invite you to come in and join them for a drink, this is where the term Ooh-Wee comes from if you listen carefully.
Expat Bar
Expat bars are establishments where you will meet local farangs (foreigners with a Thai pronunciation), who have moved to Thailand. This is a local place, can be a bar, whisky joint, or simply a pub. All these types of venues are spread across the majority of Phuket so where ever you are; you will never be too far away. Phuket is not that big, hence you can always use a tuk-tuk to head out for the night. Nonetheless, make sure you know where you are going.
Ping Pong Shows
Have you always been curious about the Ping Pong shows? – Bangla Road in Patong can answer to your curiosity, and you will see what this is all about! Ping Pong shows are not for the feint hearted, the displays here are graphic, and some consider it not to be morally correct to have such shows.
Life music bars
If you are looking for something a bit out of the way and slightly more laid back, check out Freedom bar or Sanchai bar at Rawai beach, for live music entertainment and plenty of girlies and lady boys. Head down to the peacefulness of Kamala Beach of an evening for a chilled, relaxed meal in one of the many cuisines.
If it's a quiet bar you are looking for, just to have a beer and play some connect 4 or Jenga (you will find many bars have this). You are better off going to the ex-pat joint. The games will help break the ice and meet some new people.
If you prefer the livelier scene you should head down to Patong, Bangla Road. Here you will have bar upon bar, clubs upon clubs, girls upon girls. Even the street itself is like a club during the night with the amount of people there and the loud music coming from all the different venues.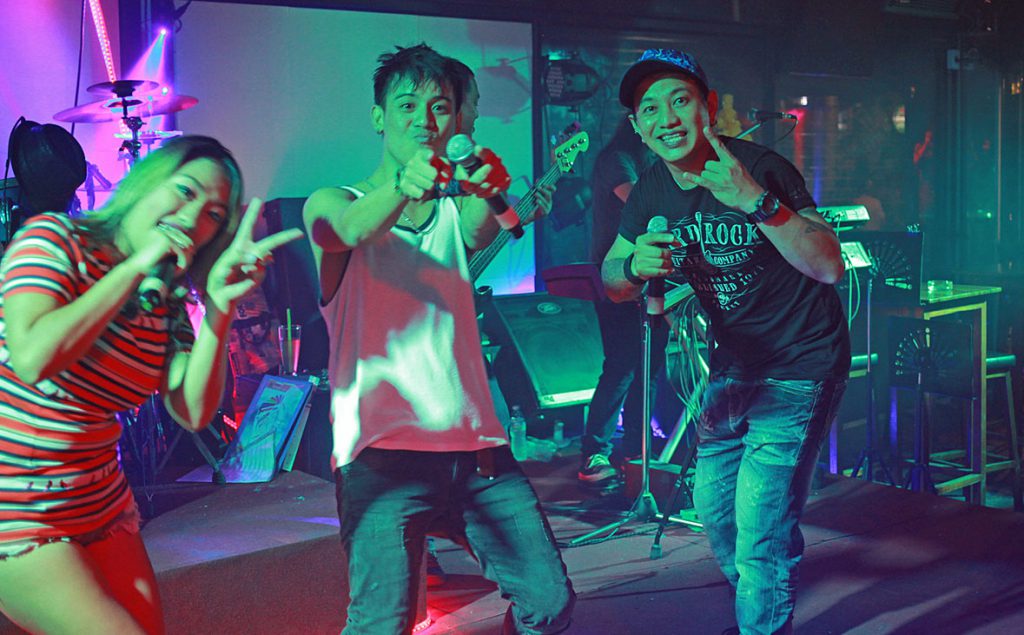 Phuket Town Nightlife
If you are looking for a night out but not on the same level as Patong for instance, then heading over to Phuket Town is a great option.
Much more laid back, with a somewhat relaxed atmosphere. There is a fantastic ambience in Phuket town, where you can really grasp the culture in some places. Phuket town is situated away from the main tourist's hotspots. Thus, you won't get huge amounts of loud people hustling the streets at night compared to that of Patong Bangla Road. However, you can still enjoy a very fun filled night at one of the local larger music style pubs, and night clubs. You will find that in Phuket town, the majority are local Thai people and ex-pats.
Aphrodite
A place to visit while you are in Phuket Town for an evening, would definitely have to be Aphrodite. It's a ladyboy cabaret show, enticing, and great fun, with two restaurants, a Japanese and a Chinese one, and a brewery for a taste of beer!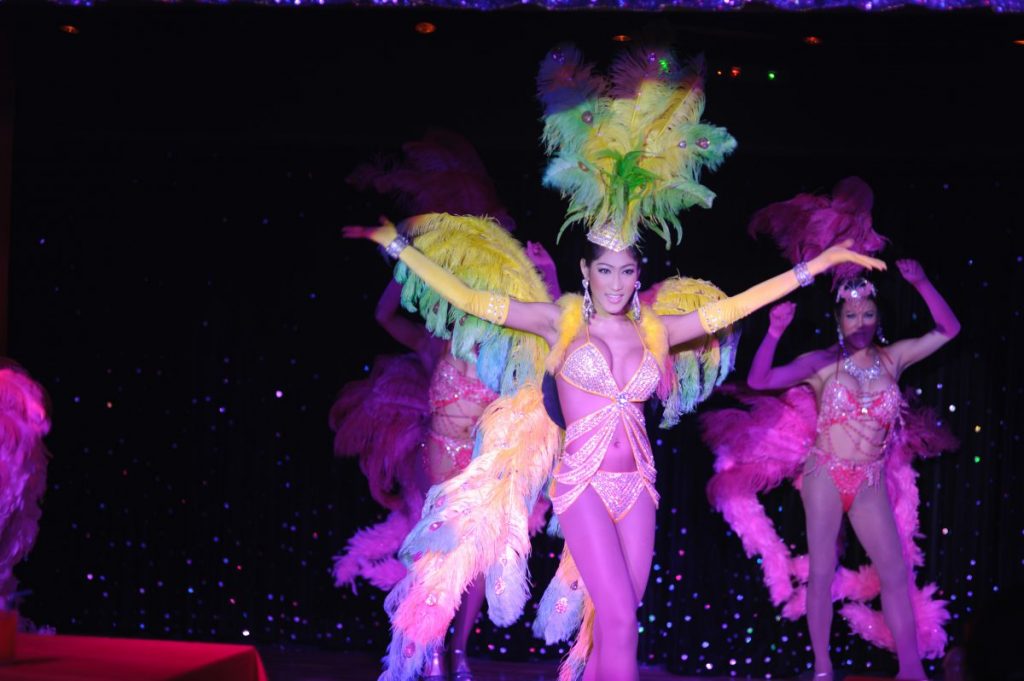 Kor Tor Mor
Fancy something a bit more lively? – Kor Tor Mor is an upstreet nightclub and one of the few nightclubs in Phuket that actually have a formal dress code. The night club has a variety of music, from Live Thai bands, to local DJ's, and it's a fantastic place to meet locals here.
Rocking Angels Blues Cafe
Rocking Angels Blues Cafe is an awesome live music venue situated in Phuket town, and if you are a musician yourself, you are more than welcome to join in with the live performances.
Other live venues like T2 Live Music and Music Matter are great places to head to in Phuket town for live performances. If you are after something a slightly different to all this mentioned, then head over to the rather hidden away Ka Jok See Restaurant located on Takua Pa Road. Very different from what you are probably used to, the portions of Thai food are vast, and the owner here is quite the entertainer, let's leave that there.
Bang Tao Nightlife
Bang Tao Beach area is a very popular destination for tourists. It is most popular for its high-end beach style night clubs.
Being situated on the west coast of Phuket, and viewed upon as having some rather 'classy' upmarket venues. When you come here for a night out, you will notice quite the difference when compared to a night out on the streets of Bangla, or Kata, or Karon.
Dream Beach Club
Dream Beach Club, located right next to the white sands and the sea in the northern part of Bangtao beach, hosting a selection of DJ's throughout the night playing different genres of music to suit all tastes. Two large swimming pools, and four bars, with an ample amount of seating and floor space to dance the night away.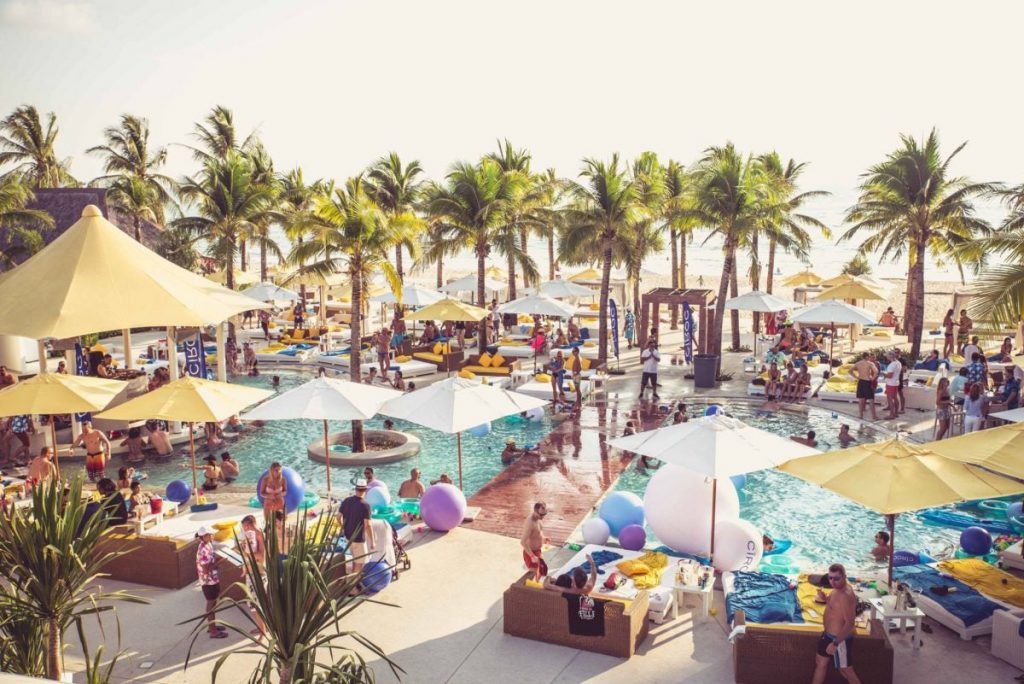 Catch beach club
The nearby Surin beach is just 5-minutes drive to the South from Bangtao. It used to be the epicentre of beach clubs and trendy chill zones, up until most of the venues were demolished in April 2016. It turned out the clubs were illegally built here and there was no way to legalise them other than demolish and get all the permissions from scratch. As a result, a whole bunch of beach clubs like Catch, Bimi, Zazada and some others just disappeared.
Clubbers headed towards nearest beaches and clubs, like Xana, Bliss and Dream Beach.
Apparently, the Catch beach club turned out to be the most renowned of them all. And in December 2016 it's taking over Bliss beach club further down Surin beach.
So if you're in Bangtao area, it's totally worth the ride. If the name of Catch beach club doesn't ring a bell, you should definitely check it out. But if it does…you know what to do.
The new location is again right next to the sea, with a two storey open building, a swimming pool, and a large decked area under some palm trees. This is one of the busiest venues in Phuket, with great music and a perfect atmosphere to enjoy mingling, or just to relax and chill out taking the view in. A Day Pass gives you an exclusive package of a VIP SunChair, Umbrella, a branded towel and a huge pillow. Grab a drink and enjoy your day!
Xana Beach Club
Xana Beach Club, another hugely popular beach club located on BangTao beach, with a very stylish look, a fantastic selection of European cuisine. Sometimes, you will get international DJs playing here to set the mood.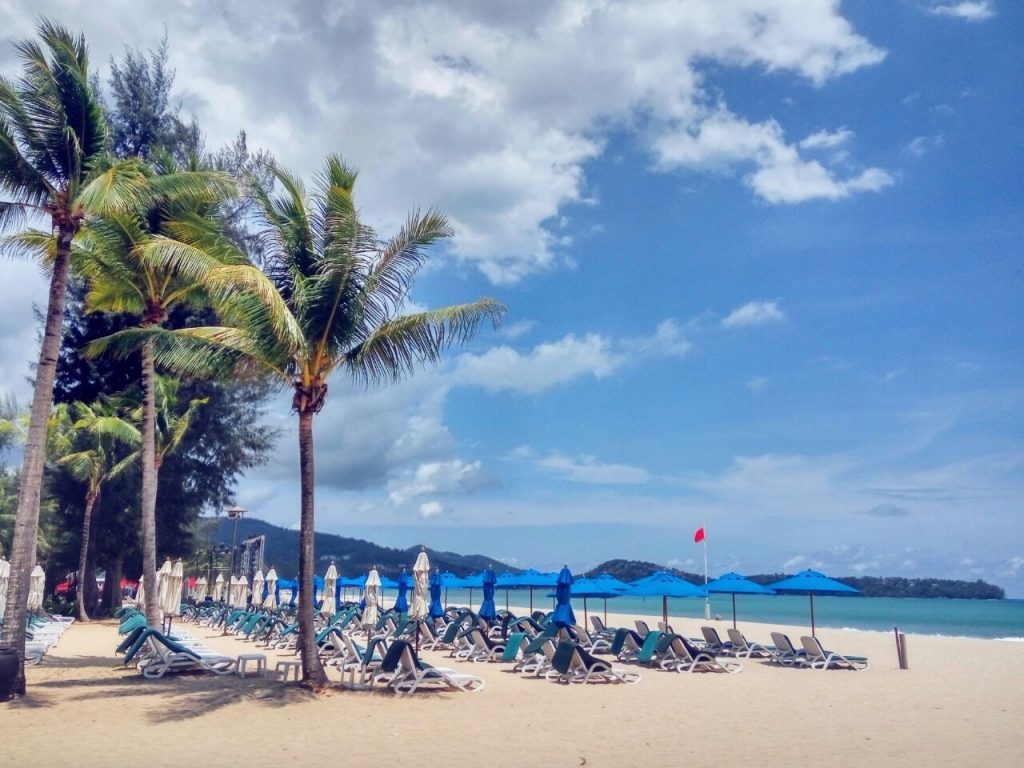 Siam Supper Club
Looking for something slightly different perhaps? Head over to Siam Supper Club, a luxurious fine dining restaurant that hosts live soothing jazz music, and a lavish range of Thai and European dishes.
Bang Tao, has everything one could want for a posh night out and set in paradise. The place has a very clean and upmarket feel to it, but of course, there are still a few girly bars spread around. That is just a tradition now in Thailand.
Patong Nightlife
Looking for a hedonistic party scene in Thailand? Look no further and get yourselves down to Patong Phuket for a night of craziness.
Depending on where you want to go, Patong has numerous different types of nightlife to explore, of course, one being the famous road called Bangla Road/Bangla Street Phuket.
But if you are looking for something more on the quiet side, then this is also possible, perhaps a romantic dinner near the sea. You will need to go a little further to find this, specifically to the outskirts of Patong, away from the busy crowds.
Patong is worldwide known for its crazy nightlife, where the streets literally come alive at night with music from all angles, insane street performers, enticing girls, and ladyboys.
Patong Boxing Stadium located in the heart of Patong beach offers daily live fights. It's a very popular activity among those who are planning to venture out on the streets at night. Live fights take place in the evenings on Mondays, Thursdays and Saturdays.
Places to go in Patong Phuket
Patong is the MAIN place to head out to for an incredibly unforgettable experience (bearing in mind you can still remember after a heavy night of drinking). Patong Beach front, street markets, small beach front bars, music bars, crazy nightclubs and the Patong night market all offer a unique one in a lifetime experience. A list of very popular places are below, and you will find them all in Patong Phuket, mainly in and around the famous Bangla Road.
Simon Cabaret
This is probably the most popular cabaret on the island. A show at Simon Cabaret can be a good warm-up before a long night out in Patong. Dreamed of taking a picture with a ladyboy? Here you can do it right after the show when the whole cast eagerly poses for the pictures with the guests.
Paradise Beach Club & Paradise Complex
Paradise Beach Club & Paradise Complex, you will need to check dates, but Paradise Beach does offer Full Moon parties on the beach at certain times of the year. Attracting swarms of people to one of the nicest beaches in Phuket for a festive night of dancing under the stars and next to the sea.
Rock City Live
Rock City Live music venue is a great place if you are into your heavy rock music and heavy metal, based right in Patong Beach.
Molly Malones Irish Bar
Located next to Patong beach, this pub is a great place if you are looking for a pint of Guinness. On top of that, a fantastic place for decent pub grub, a huge selection of beers and ales. You will also find some excellent live music to chill out too.
Soi Sea Dragon
Is the hottest street outside of Bangla Road, approximately 100m long, with near on 50 bars. Some of the more popular bars on this road is Exotica (a go-go bar), Club Lover (Karaoke and girlie bar) and Devil's Playground which to many is the best but the naughtiest go-go bar on the strip! Moulin Rouge Bar you may come across on your walk through Soi Sea Dragon is a strip tease bar where you will find it inundated with girlies. Sometimes a good starting point due to being located right at the start of the road.
Patong Beach Club
This place offers an excellent selection of wines, cocktails and tapas.
Roots Rock Reggae Bar & Shop
Again based on Patong Beach, is a very chilled out place (chilled out for Patong), playing reggae. Sometimes even live reggae music if you are lucky, and they also have a monthly barbeque for all you jerk chicken fanatics.
Love nightlife Phuket
Give you exactly what it says: a love filled nightlife experience. With a rooftop pool, it is another favourite spot to chill out purely because of its location above the busy streets of Patong.
Numerous places are not commercialised, and you will not find out about until you head down to Patong yourself to see.
Bangla Boxing Stadium
If watching live Muay Thai fights are your thing, then head down to the famous Bangla boxing stadium. The stadium is situated opposite Banzan street market, next to Jungceylon shopping mall.
Live matches are held every Wednesday, Friday and Saturday. If you want to learn more about this amazing sport read our Complete Guide to Muay Thai in Phuket.
Bangla Road
If you are simply looking for an unforgettable night out in Phuket, the main place to head to in Phuket is Patong, Bangla Road. Jam packed with bars, clubs, insanely loud music, a ridiculous amount of girls, ladyboys, ping-pong shows, and so much more… Bangla road starts to liven up from late afternoon, and in most cases, does not stop until the early hours of the morning, next day.
Live music, thumping loud tuk-tuk with subwoofers inside, neon lights everywhere, some crazy outfits, but all in all, a genuinely friendly atmosphere. Bangla Road is certainly an experience you will not want to miss, even if the exciting night scene is not your cup of tea, it is highly recommended to visit this place just to see what it is all about.
The price of beer is reasonably cheap here, and you will find many a club/bar hostesses/promoter trying to get you into their bars, with incentives such as buy one drink get one free, etc. Aside from these promoters, you will also have the girls who work at the bars and clubs that literally pull you in from the streets by grabbing your arm, and some can be very enticing. If you don't want to go in, just be polite and say you'll return, always works….The bars and clubs are situated right next to each other, so makes for a lively and loud atmosphere.
Bangla Road Bar Crawl
If you feel up for a crazy bar crawl, then join the Bangla Road bar crawl. During this activity, you will meet people from all walks of life who are just up for a good time. You will take in the experience while on the way to becoming very intoxicated with alcohol.
The crawl will take you from bar to bar, and club to club along the Bangla Strip. You will be drinking local beer, an unlimited amount of shots, and join in on some fun drinking games. All of that whilst speaking to all the girlies and hostesses of the bars/clubs as well as participants of the bar crawl.
It's a great experience, with all the best venues handpicked for you.
Bangla Road is packed full of street performers and side shops. Those shops sell anything from souvenirs to full tailored suits and shoes. Don't be surprised when you see many ticket touts, ladyboys, and in general plenty of girls which add to the element of a wholly entertaining and somewhat different night compared to that of a western night out.
Around the main Bangla Road, you will find packed side streets (Soi – this is the word used for street/road mainly in Thailand). These streets are full of bars, shops, more notable establishments, restaurants, smaller bars, some underground nightclubs, ping pong shows, and many go-go bars. You could spend all night and here and barely touch the surface of the place.
Many hostesses on Bangla road are ladyboys and may find it very hard to tell the difference between some of the ladyboys in comparison to the girls. Bangla Road is the epicentre for a night out in Phuket without a doubt. Just remember to respect their culture as things can get somewhat confronting, and you will be fine.
Best Places to visit on Bangla Road
Bangla Road itself explains all, and is packed full of places to go to. Hence, the best thing to do is just to get yourself down there and see for yourself which sites and venues suit your taste.
Further afield, but still on Bangla Road, you have the largest and best nightclubs in Phuket. The clubs are Seduction Complex, Illuzion and Tiger Disco. These nightclubs are the biggest in Patong, full of thumping music, neon lights, and multiple floors. The drink prices are pretty reasonable in here too, anything from 50baht (£1) upwards for a beer, and 150baht upwards for spirits, cocktails and so forth.If you enjoy dancing the night away, these nightclubs are the place to be in Patong – Bangla Road.
These nightclubs are the biggest in Patong, full of thumping music, neon lights, and multiple floors. The drink prices are pretty reasonable in here too. Anything from 50baht (£1) upwards for a beer, and 150baht upwards for spirits, cocktails and so forth. If you enjoy dancing the night away, these nightclubs are the place to be in Patong – Bangla Road.
Illuzion nightclub
Illuzion is one of the biggest nightclubs on the island with a capacity of 5000 people. The night club has four international resident DJ's as well as eight international dancers who work on their each performance to make a night spent at Illuzion unforgettable. The performance is coordinated by the European choreographers and the program changes very often. Illuzion is undoubtedly one of the best night clubs in Phuket and even in the whole of Thailand.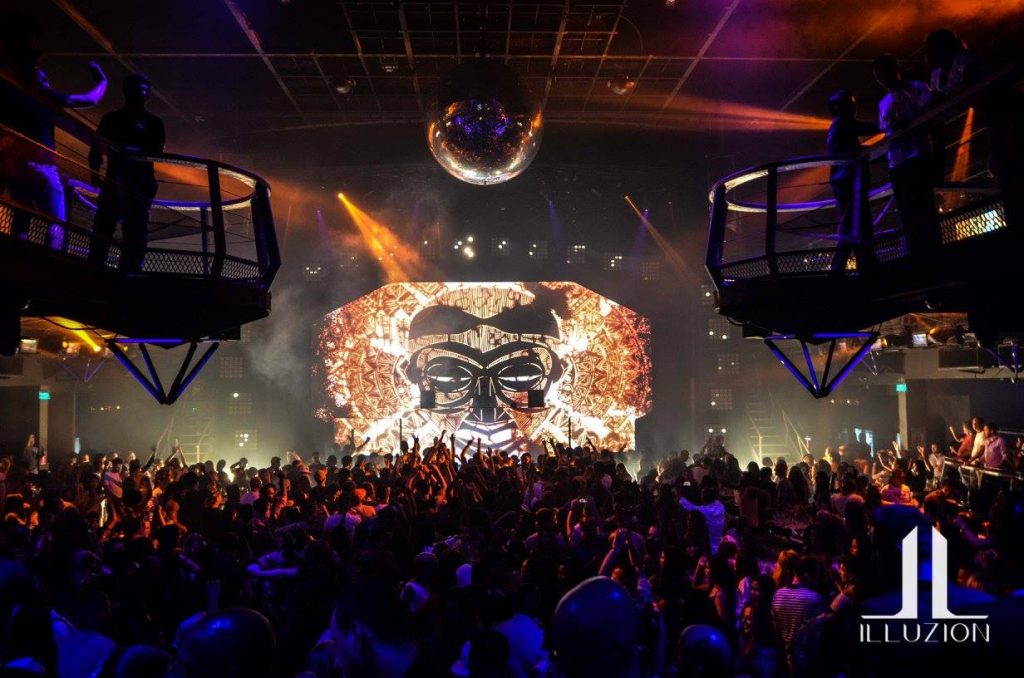 Tiger Discotheque
Tiger Discotheque on Bangla Road is one of the venues managed by Tiger Group. They are famous for their tropics-inspired interior designs. Whenever you're walking down the street and see giant tigers sticking out of  You won't miss a Tiger club or restaurant
White Room Nightclub
White Room is one of the most decent clubs in Patong. Not to be mistaken for the White Box which is another night club further down the road from Patong to Kamala! The crowd includes many expats as well as tourists. The club features a spacious dance floor, VIP zone and a VIP balcony. As the name prompts, White Room interior design is mostly white. And of course, White Parties with all-white dress code are quite common here.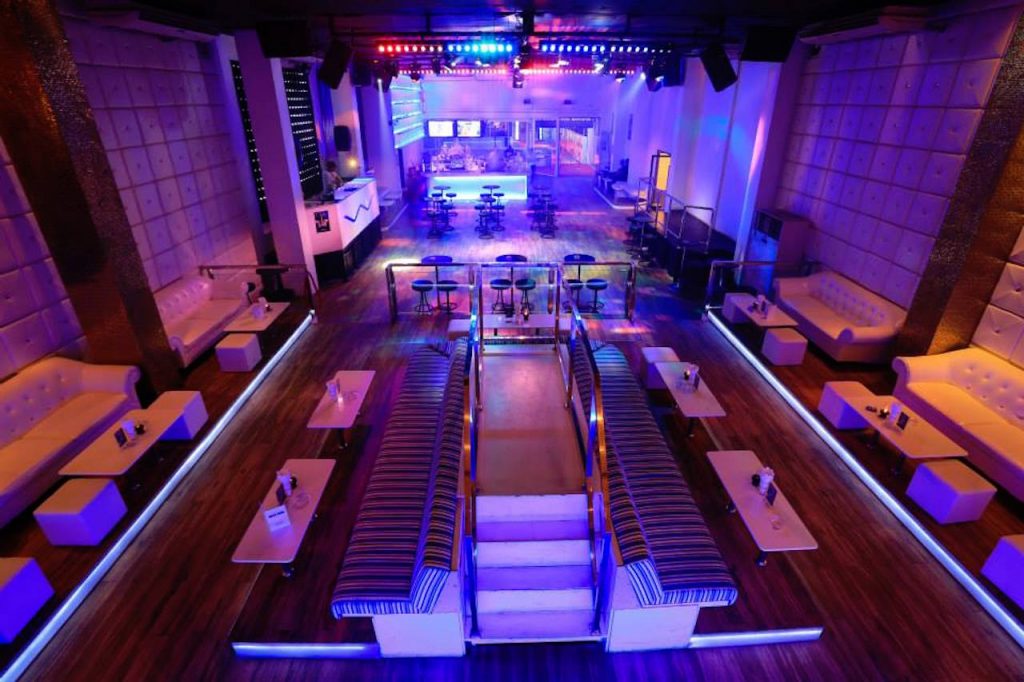 Seduction nightclub
Seduction nightclub was opened back in 1997 and it quickly became one of the top locations in Phuket and the whole of Thailand. The nightclub has four floors each of them playing different music and have its own atmosphere. The best DJs from around the world come to Seduction to play their sets. The nightclub is open seven days a week, year-round, so no matter when you are visiting you can go and spend a night in Seduction.
Bangla Road Ice Bar
If you feel the need to cool down? Head over to Bangla Roads Ice bar, where it's below -0 degrees, and have a few drinks. This will certainly change your body temperature from the heat consumed on the streets outside! Very pleasant, but beware the drinks can be somewhat pricey in here. Purely because you are paying for admission fee on top, and the bar can only fit so many people at one time.
Kathu Nightlife
Kathu located on the West side of Phuket is the smallest of the three districts that make up Phuket as an island. The old village of Kathu is relatively less commercialised compared to Phuket town for instance. Kathu is rather a communal town, but it still offers a wealth of activities to every taste.
Kathu has fantastic markets day and night, where you can buy just about anything. You will find everything you need from local delicatessen through to barbeque insects, to clothing.
Kathu is perfect for a night out in one of the many restaurants located around the area. You should go and check out the Royale Nam Tok, (house by day, fine dining by night). Perhaps a meal at the Thong Dee Restaurant. Trying out world class cuisines consisting of Thai home made specialities, Mediterranean and Swedish selections.
There are a few bars around, but in comparison to the other destinations mentioned in this guide, they are fairly quiet. For more information on Kathu read our Things to do in Kathu, Phuket guide.
Kata Beach Nightlife
Kata beach, a haven for surfers during the low season for its waves. While a hot spot for tourist during high season. Due to Kata's gorgeous beach made up of white sand, and clear water, surrounded by a line of palm trees on the road side it's truly a vacation paradise.
You will find an abundance of things to do here day and night. Basically any souvenir you will be looking for in Thailand can be found in Kata. Mainly, due to the numerous shops and night markets spread across the town. You will be spoiled for choice with eating out here. The place is a food galore. The restaurants include everything from traditional Thai cuisine, Turkish cuisine, Italian, through to European western foods.
Nightlife in Kata is fantastic, but definitely not as heavy as the hedonistic scene in Patong Bangla Road for instance. There is a vast range of bars which are mainly situated on the back road of Kata. The road runs parallel to the beach road. This street at night does come alive with many girlie bars, shops, street vendors and a few ladyboy bars.
The beachfront next to Kata Beach is pretty much dominated by Club Med holiday type of resort. Bear in mind that these venues are not nightclubs and may close early.
The Surf House Kata
One of the favourites for locals and tourists at Kata is The Surf House. The Surf Hous is located right on Kata Beach front. Great music, a wave ride system (similar to an inclined pool but with wave formation) allow you to test your surf skills and balance out after having a few drinks. It is seriously good fun, even watching your friends giving it a go, and falling off losing balance is highly entertaining.
To sum it up a great selection of inspired food, and generally a fantastic atmosphere. Apart from the particular back road mentioned the place is pretty much family friendly.
Best Places to visit in Kata
The back street parallel to the beach street (beachfront) is where you will find the nightlife here.  Crammed with bars, food joints, and entertainment. The Surf House and a large choice of restaurants to suit your tastes. Nonetheless, Kata is more of a peaceful place and not really a party hub.
Kamala Nightlife
Kamala's nightlife is even more laid back compared than of Kata, Karon and of course Patong and Bangla Road's nightlife. Kamala has some very nice beach bars right on the side of Kamala beach. In those places, you can enjoy a beer, cocktail and some light entertainment be it girls or sports.
Wondering through Kamala village of an evening time, you will come across a variety of small local restaurants to feast your eyes upon. Kamala is host to some fantastic 5-star resorts. The beach also has a large friendly beer garden, two sports bars, a few small pubs, and a rock and roll bar.
A quieter place than its neighbouring party places, but still enough to warrant entertainment for an evening for most visitors. Bear in mind you take a 10 min taxi (tuk-tuk) down the road to the louder scene at Patong Beach.
Best Places to visit in Kamala
Kamala Sports Bar is a nice casual and cosy place for watching live sports on screen.Kamala Beer-garden is a friendly chill out hot spot. Finally, Aussie Pub Kamala offers a range of for traditional ales, good pub grub, and ambient atmosphere.
Karon Nightlife
Karon is known to many as the little sister of Patong (and the famous Bangla Road). The nightlife can offer many things that Patong offers, just on a smaller scale, and without the ping pong shows. A plentiful amount of bars which is the centre point for the nightlife in Karon, just off Patak Road.
You will have a lot of fun here, and the girls who work at the bars make it very welcoming. There are a lot of girlie bars here, and most stay open very late, almost up until dawn, so you won't run out of things to explore and do for the night. If you enjoy live music, head over to Karon Aussie bar, and Kenny's Aussie bar.
Best Places to visit in Karon
Karon Plaza, consisting of many bars, restaurants, massage parlours and guesthouses. This place comes alive at nighttime, with the streets lit up, the bars put on the music.  The girls and hostesses line up to bring in any passing customer. If you are in Karon, you must visit the Karon Plaza. Not as heavy as Patong's Bangla Road, but you wouldn't expect it to be due to its smaller L-shaped size.
4U Skybar Nightclub
4U Skybar Nightclub, a fantastic bar located on the rooftop, with a huge selection of cheap cocktails. The bar also features a pool to chill out in, or cool off from the tropical climate.
Bangla Plaza, a selection of mini sized open sided bars. All of them with many hostesses (girls and ladyboys mixed), music, pool tables and well-priced drinks.
Angus O'Tools
Angus O'Tools, a very popular Irish pub for its international ales and beers. The pub has a huge sports screens for popular sporting events i.e. football, with a genuine all round pub feel. This place will make many tourists feel more at home as if it were in your own country. A great selection of pub food is also on offer. For more information on Karon and it's night life read our Guide to Karon.
Rawai Nightlife
Rawai, not often mentioned in the majority of Phuket guides as a town to visit for Phuket nightlife. Nonetheless, it is worth a visit if you are close by and would like to explore the sports scene. Rawai is located on the southern tip of Phuket. On the Rawai beach road, you will see a stretch full of bars.  The rest of the bars are located throughout the village away from the main beach road. Rawai has many local bars, some quiet, some are very busy, so it's a nice selection.
There are a mix of restaurants too in the village, including some very exotic seafood restaurants to eat at. Nikita's is perfect if you like lobsters and fresh seafood. Da Vinci's world class Italian restaurant situated about a 5 min drive from Rawai beach, close to Nai Han gym. As well as many other local restaurants serving Thai and European menus.
Barwise you have Freedom and Sanchai bar which are the two main ones. They are also located on Rawai beachfront. If you fancy putting on your dancing shoes, you can head over to Laguna's or Ikon nightclub. Both places will keep you up to early hours of the morning no doubt.
A quiet village mainly, but when the night is upon us, Rawai does become quite lively. Bear in mind most of this takes place at the Rawai beachfront. There is a decent mix of girly bars combined with ladyboys throughout Rawai.  Especially on the main road leading down to the beach. The scene here is somewhat dominated by Muay Thai. Thus of a weekend, when training is more relaxed, it becomes quite lively and entertaining.