Mai Khao Beach – The Sea Turtle Paradise
Friday, January 22, 2016
Uncategorised
by
admin
Located in the north of Phuket, not so far from Phuket International Airport, Mai Khao is another beautiful spot in Phuket. This is is the longest beach on Phuket island, stretching along 11km. Mai Khao is part of the Sirinat National Park. Mai Khao beach is a breeding ground for turtles. People come to this part of Phuket to get away from all the hustle and bustle that the other towns bring. They come for peace, as this beach is the most peaceful in northern Phuket.
Mai Khao beach pretty is much undeveloped when compared to other Phuket Beaches like Patong Beach, Kata Beach and Kamala Beach. On some days you can walk for kilometres across the beach without seeing anyone, so it is a peaceful beach. The resorts and hotels are spread wide and far, they are not all together and bunched up like other destinations around Phuket.
In the high season, you will find more people, but the activities here are not as exhilarating compared to other hot spot tourists beaches. In the low season, the sea can be very dangerous, and this is because there is a sharp drop only a short distance out from the bay area and the currents can suck you under. Some do advise not to go swimming here in the months between May and November, especially if the seas are rough. Also because it is undeveloped and quite, you don't have the safety of the lifeguards situated around the beach.
Accommodation in Mai Khao
There are a number of very nice hotels, and resorts spread apart in Mai Khao. Including several high-quality 4-5 star hotels.
Marriott Phuket Beach Club
This place is fairly large offering six different restaurants to choose from onsite, and a good spa treatment service. Prices range from circa 18,000 baht ($500) per night and can go up in the high season quite dramatically. It would, of course, all depend on the type of room you are looking for, be it deluxe, superior and so forth.
Anantara Mai Khao
Another superb place offering luxurious villas with private pools. This is one of the most high-end places to stay in the area. Rooms start from 26,000 baht per night ($725). Anantara comprises of 92 private villas, three restaurants, tennis courts, and of course a full spa treatment service.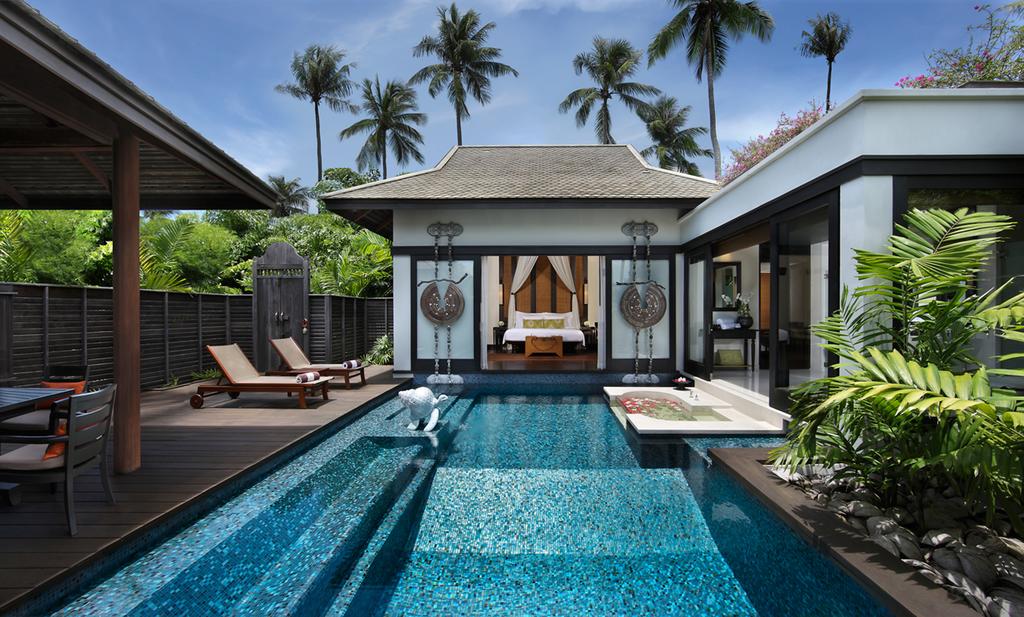 Other amazing hotels with Spas
Renaissance Phuket Resort and Spa, another luscious hotel offering the full package for relaxation. The Spa treatment here is very well known for the area. You will also find similar treatments at JW Marriott Phuket Resort and Spa.
SALA Phuket Resort and Spa and Mai Khao Dream Villa Resort and Spa are other fantastic relaxing places to stay in Mai Khao. There is quite the trend here as you will notice, most having spa treatments, and offering luxury services.
D Varee Mai Khao Beachfront Resort
If you are on more of a budget, then D Varee Mai Khao Beachfront Resort offers nice surroundings. Rooms here average throughout the year from about 1800 baht ($50) going upwards per night. D Varee Mai Khao has all the amenities necessary for an enjoyable stay. D Varee features an onsite restaurant with a continental and traditional menu and a decent beach bar.
Most of the accommodation, resorts here by the beachfront are simply amazing. The service is as you would expect for the price you pay. If you plan on budgeting even more then it is wiser to head more into the village. Away from the beachfront area, you will find rooms available in some of the streets parallel to the resorts. Depending on the season you can get rooms at much more reasonable rates than that suggested. It is also a good idea to venture and ask in person, as you can always haggle for the room price. Bear in mind this isn't true for the main 5 star hotels. They get booked up quite quickly before the high season setting in, so always best to check online first.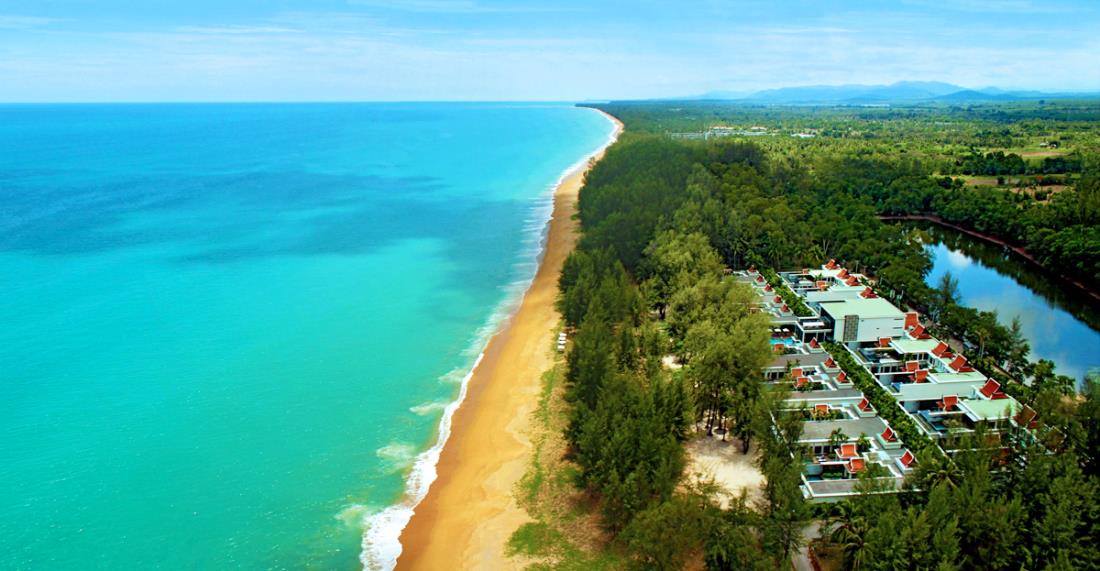 Private accommodation in Mai Khao
Away from the beachfront area, you will find rooms available in some of the streets parallel to the resorts. Depending on the season you can get rooms at much more reasonable rates than that suggested. It is also a good idea to venture and ask in person, as you can always haggle for the room price. Bear in mind this isn't true for the main 5 star hotels. They get booked up quite quickly before the high season setting in, so always best to check online first.
Dining in Mai Khao
Eating out in Mai Khao is a tasty experience especially if you are a seafood fan. There is a fantastic seafood outlet located on Mai Khao Beach.
This place has an awesome atmosphere, with bamboo and thatch roof, giving the feeling of an isolated island outlet. There are around ten restaurants around here, all offering super-fresh seafood.
There is also a selection of Thai food available. Bare in mind, when ordering seafood, always check the menu prices. Seafood is usually sold on weight rather than set pieces, so it can become quite expensive if you are not sure what to order. This Bamboo and Thatch outlet are open daily from 10 am and closes when the last person leaves.
The hotels and resorts located in Mai Khao offer a great selection of foods from around the world. Everything from European, Japanese, Mediterranean, Asian and Italian is can literally be on your plate.
Aside from hotels and resorts, which offer an abundance of restaurants and cuisines, the Turtle Village would be your next stop.
Shopping in Mai Khao: The Turtle Village
If you enjoy shopping (who doesn't), you must head to the Turtle Village. The Turtle village is pretty large, set in over 3000 square metres, on two floors. Souvenirs, gifts, a large range of clothing, shoes, and some other quality outlets are all on site. As well as shopping there is a very nice traditional pub called The Bill Bentley Pub and Restaurant. Had enough of the beach and physical activities, then head over to the Turtle Village to do some retail therapy. Relax in one of many of the restaurants or pubs. The Turtle Village is open between the hours of 10 am to 9 pm daily.
Based around Mai Khao, around the streets, you will see the odd shop here and there, but it is nothing like Kata for example. The vibe in Mai Khao is a lot more relaxed for shopping, having the one main mall – Turtle Village.
Activities to do in Mai Khao
When it comes to activities in Mai Khao the are benefits from both amazing natural parks and great family fun resorts.
Wat Mai Khao
If you are looking to spend a day sightseeing or checking out some fabulous traditional Thai culture, then go to Wat Mai Khao. Please show respect here as monks are praying and doing their daily business here. You can view the chapel which is a site in itself, and the Karepriiy hall as well as the monk's dormitories. It's a beautiful, peaceful and tranquil place. Quite the hot spot for people who like to have a vibe of original Thai culture.
Mai Khao has a few enjoyable activities to indulge in. The beach is one of the largest in Phuket and has a vast area to swim and relax on. Swimming in Mai Khao can be dangerous so be careful. In Phuket, there are not many beaches that have a very deep drop near the sandy bay as Mai Khao has.
Kidzsole Flying Trapeze
Ever tried Trapeze? Not far from Mai Khao Beach itself you can head over to the Kidzsole Flying Trapeze and experience what it feels like to fly. Be it on a small scale. It's a great place for kids and families to head out to for a day of fun. Simply the trapeze is a pretty much a big swing but gives you the excitement of flying to a certain degree. After some very simple guidance, you can give this a go, and build up your speed if you dare too.
Splash Jungle Water Park
Mai Khao is also home to one of the best waterparks in Phuket – Splash Jungle Water Park. The park is open daily from 10 am until 6 pm. Another fantastic fun day out for all, and it is very family friendly. Splash Jungle water park has a wide range of water slides, water rides, and more water based activities. This is targeted for families mainly, but it is great fun for all.
The park contains 12 exciting and big water slides to give anyone a thrill. There are lifeguards on location here, and it is a very safe environment. Again Splash Jungle Water Park is family friendly, and a fantastic day out for all.
On the site, you will find a couple of restaurants offering a variety of food and beverages. The price here is reasonable for the activities and dining. The Coconut Cafe has some delicious burgers, hot dogs, smoothies and other sweets to indulge in. Also, you have a selection of some very nice Thai dishes.
This water park is great because if you compare it to the other water parks around the world, the waiting time is next to nothing to have your ride or slide. For example, a large water park in America, you could be waiting for a ride down the water slides for quite some time. This is not the case with Splash Water Park. Usually, you can be on the ride within under a minute of queueing. One particular ride here that it is famous for is the Lazy River ride. You grab an inflatable tube and can travel around the park on this ride which is around 335 metres long.
Another ride here is the Boomerango. This is a steep drop down a vertical wall, where you are inside an inner tube, to begin with. The drop is around 15 metres high and will give anyone a good rush. A fairly quick ride but exhilarating, to say the least. You will land in the splash pool at the bottom after your stomach has gone up to your head.
The Super Bowl Ride is as it states. These are famous all around water parks around the world. You simply drop down through what is called an aqua tube and then go round in circles in the bowl until you drop into the hole in the middle. Again you will land in the splash pool at the bottom.
Splash Jungle Water Park also features a children's Aquarium, kids slides for the little ones, as well as the main adult slides. It's truly a great, fantastic day out if you love water parks, it is a must to visit. Prices to enter the park are very reasonable. Children under 5 go in for free. Children from 5-year-old – 12-year-olds can spend the day there for 650 baht ($18) and adults 1295 baht ($36). The price includes secure lockers so you can have peace of mind your valuables are safe while enjoying the water activities.
The Sirinath National Park
The National Park is huge, covering the whole of Mai Khao Beach and Nai Yang. The Sirinath National Park is of course in North Phuket, not too far from the airport. You will undoubtedly notice at times, aeroplanes flying quite low over the beaches. This is one of the major attractions of the beach. Many people come to the Southern end of Mai Khao beach only to pose for a photo of a plane flying right over their head.
Sirinath National Park is a very nice, tranquil place, with a peaceful setting. You won't get crowds heading here to party, and it's more just pure white sands that stretch the 10 miles across both beaches, with some green tree backdrops.
A beautiful place to visit if you want to head to a quiet destination in Phuket and just enjoy peace. It is not rare to have the beach completely to yourself. On occasions, mainly during the night time, you might be lucky enough to see the Giant Ridley Sea Turtle. These turtles are a magnificent site if you are lucky enough to see them. They usually stumble upon the beach of an evening to lay their eggs.
Mai Khao Marine Turtle Foundation
Mai Khao Marine Turtle Foundation appeared as a result of the collaboration of two hotels opened on Mai Khao beach back in 2002. The Minor Hotel Group and JW Marriott Phuket Resort and Spa donated $45,000 to launch the foundation.
The Mai Khao Marine Turtle Foundation mission is to protect the marine and coastal environment and ecosystem of the Sirinath National Marine Park and the surrounding areas inhabited by the sea turtles.
The organisation in close cooperation with the local community and government offices runs yearly events to support the state of Mai Khao ecology and the Andaman's ecosystems.
Mai Khao Marine Turtle Foundation together with its supporters carries a range of activities such as beach and reef cleaning, mangrove tree planting, recycling projects, educational workshops, and of course turtle rescue and release.
Mai Khao is one of the last Phuket beaches where you can still find nesting turtles. The Foundation rescues the eggs from the nearby beaches where the environment is no longer safe for turtles.
The eggs are the given to the Phuket Marine Biological Centre (PMBC) and Royal Thai Navy. Here, they provide all the right conditions for the eggs to hatch and the young turtles to gain strength. When ready, the turtles are released into the Andaman sea where find their true home. This program is entirely funded by the Foundation and donations.
Anyone interested can take part in the annual Mai Khao Turtle Release. The charity ceremony normally takes place during the Songkran Festival on April 13 with some additional Turtle release sessions between April 15 and 17.
Conclusion of Mai Khao
Mai Khao is peaceful, quiet, and out the way, from the busy crowds and noise, you would get from other towns. The beach here is one of the biggest in Phuket, based in the national park, is beautiful. It is especially nice if you just want a peaceful place to walk hand in hand with a loved one and not be disturbed.
The hotels and resorts are mainly high-end, but you can get some budget accommodation. Mai Khao is not like a major holiday destination if you compare it many other places in Phuket. But for this reason, it makes Mai Khao a very special place. The activities are enough to keep you and your family or friends entertained, and the food and drink are great. Mai Khao is definitely a place to visit, even if it's just to check out the size of the beach!