Travel to and from Phuket: Ferry, Bus, Boat, Train
Wednesday, January 22, 2020
Uncategorised
by
admin
Phuket is Thailand's largest Island situated in the southern province. The island is located on the west coast, surrounded by the beautiful Andaman Sea.
The Island of Phuket is connected with continental Thailand by Sarasin Bridge on the North. Thus it can be reached via road transport. Travelling to and from Phuket is pretty easy and simple.
There are numerous ways of transportation that you can take, depending on your budget, where you are coming from and what you feel comfortable with.
There are many travel agents and independent transport companies that offer travelling to and from Phuket. Everything from airlines, ferries, boats, trains, VIP overnight buses, private taxi's, and mini buses will offer transportation. Otherwise, you can simply rent a car, and DIY (do it yourself). If you choose this option, it's wise to take a paper map, and also use a Sat Nav, as the Internet might be a problem.
Phuket to Bangkok
Phuket to Bangkok by Air
There are many domestic flights daily to and from Bangkok to Phuket (and vice versa), and it only takes approximately one hour flight time.
If you are heading from Bangkok to Phuket, the quickest and most efficient way would be to take a flight from Bangkok Suvarnabhumi Airport to Phuket International Airport.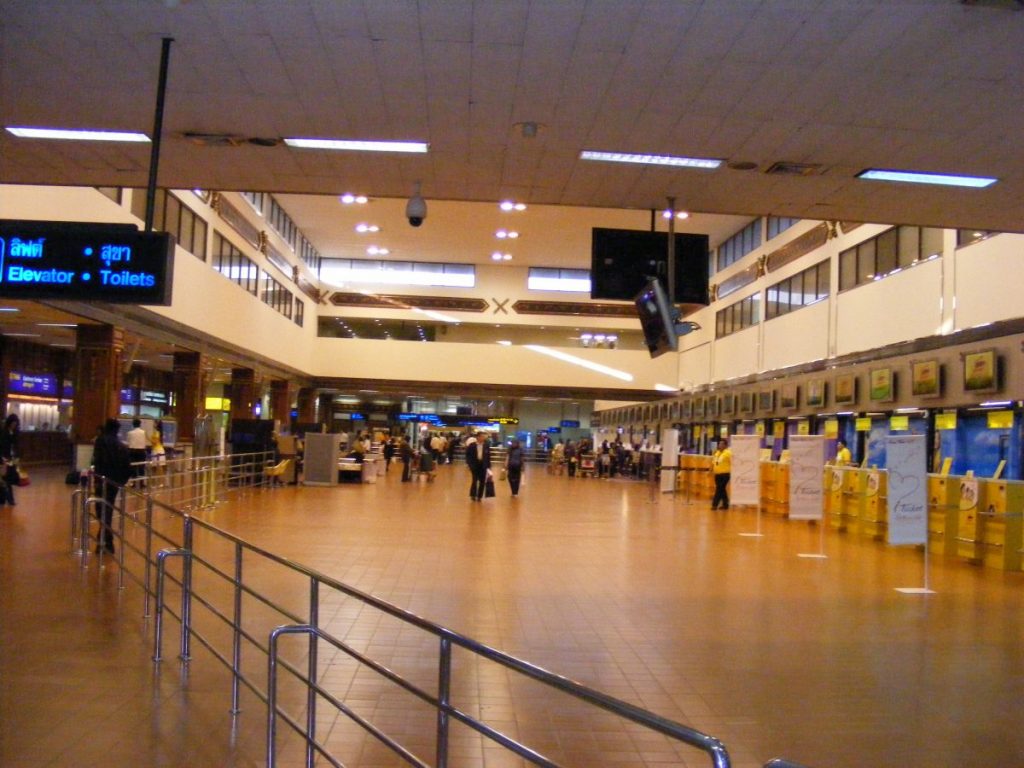 This way is usually the more expensive option due to being the quickest and most convenient. But it can depend on when you chose to fly if there are air flight promotions, and of course, it will depend on seasons. Also, keep in mind that the weekday flights are usually cheaper than the weekend ones. Flights can start from around 1800 baht ($50), and go up to 4000 baht ($115) from Suvarnabhumi.
Airlines that fly direct from Bangkok Suvarnabhumi International Airport to Phuket International Airport are Thai Airways, BangkokAir, and VietJet Air. Bangkok Suvarnabhumi Airport to Phuket seems to be considerably more expensive than if you were to fly from Bangkok's domestic Airport – Don Muang Airport.
Flights from Bangkok Don Muang Airport to Phuket can be as cheap as 450 baht ($12) sometimes in low season (with promotion), and in high season Nov/Dec/Jan, can go up to 2000+ baht ($60). The main airlines that provide the direct flight from Bangkok to Phuket are Air Asia, Lion Air, Nok Air, Orient Thai Airlines, Thai Airways, Thai Lion Air and Thai Smile. A good tip is to sign up for Air Asia promotional deals and subscribe to their emails for flight deals. They sometimes offer great deals, not only to Phuket, or vice versa – Phuket to Bangkok but all areas in Asia.
Be aware that roughly around 40% of the time, the domestic flights to and from, do have delays. Some can be just 30 mins, some can be a few hours. This is really the only bad point about flying.
Phuket to Bangkok by Train
Taking a train is usually cheaper than flying. Trains can also be convenient, based purely on the fact that you don't get the hassles of sometimes long delays. Compared to domestic air flights. If you take an overnight train, it is pretty comfortable, and with a decent amount of leg room for those of us with long legs. This can be a good way to relax and rest/sleep. You will also pass some interesting sites, and get to see Thailand from another perspective.
There is no direct route (for a train) from Bangkok to Phuket or vice versa. Hence, you would need to stop at Surat Thani, and take a bus from there. The bus from Surat Thani to Phuket Station is roughly a 4-5 hour journey. But it gives your travel a touch of variety.
The journey from Phuket to Bangkok is simply reversed – bus to Surat Thani, and then Train to Bangkok Hua Lamphong Train Station. You have a choice of first and second class sections to sit on when choosing the train option. In most cases, the train (to and from) and bus are combined in the ticket price. Approximately 900 – 1100 baht ($28-$33) for 2nd class train seat, and around 1500 -1800 baht ($50-$60) for first class. Tickets can be purchased from mainly any travel agent, online or local. Always check before booking as with any travel option, it depends on the season, and if it's also a public holiday, etc., prices will fluctuate.
Thai Railways official website: http://www.thairailways.com/
Phuket to Bangkok by Bus
If you are on a tight budget, this option is probably the cheapest. However, the bus journey is incredibly long. But if you are happy to sit on a bus for 12 hours, and save some money, then this could be a good option.
The bus service runs daily at set times, usually starting around 7:30 am, 5:30 pm, 6 pm, and 7 pm. This is all subject to which bus service you opt for. There are many to choose from, but this gives you an example.
Buses from Bangkok to Phuket leave from the Southern Bus Terminal (Sai Tai Mai), but you can also get buses that leave from the famous backpacker's road – Khao San Road. If you are coming from Phuket to Bangkok, just head to the Phuket town bus station. It is best to book your tickets a few days before travel to make sure you get a good seat. Also, it's highly advisable to go for the air condition buses (most of them are), but just make sure you double check this. The overnight bus service is more popular than the day bus journey, so booking in advance is recommended again.
There are a few options with buses; you can choose seats with longer leg room. These are slightly more expensive than the standard seats. This is usually called the VIP bus ticket. Be sure to check with your travel agent, or booking company before purchasing. Best advice would be to buy the ticket directly at the bus terminal a few days or a week before travelling. Make sure you are getting what you are paying for. Some agents are known to offer tickets at discount prices, looking like a good deal. But when you actually get on the bus, you notice it is not as described.
VIP first class bus prices to and from Phuket is approximately 1000 baht ($28), air conditioned, with fewer people onboard, i.e., 24 seats per bus. The 2nd class air-conditioned bus has 46 seats and costs approximately 500 baht ($14).
The buses have onboard toilets, and you will get water and a small snack like a pack of peanuts, and a little cake. The bus will also make a stop off around the halfway mark, so you can get out stretch legs, get some fresh air for half an hour, and then carry on with your journey. Some VIP tickets will include a meal at the stop off, which usually consists of some traditional Thai food.
Bangkok to Phuket – Phuket to Bangkok by Taxi
The most expensive way to get to and from Bangkok to Phuket is by private taxi, and you will be looking to spend in the region of 10,000 baht ($ 285).
Phuket to surrounding Islands on the Andaman Sea
Travelling from Phuket to the surrounding Islands in all cases requires you to take a ferry, or boat, as you will need to cross the water. There are many tour packages online that offer full packages to the islands mentioned below.
These tend to be the most popular way to travel and see the Islands. Even though you are on a time limit, one day is more than enough to explore a bunch of islands at a time.
Alternatively, you can book an overnight stay and travel by ferry. Thus, you will no doubt have a much more relaxed time. This will enable you to explore these islands in your own time without checking the time now and then to make sure you don't miss the return trip back. Of course only if you have a luxury of time.
The most sophisticated way to explore the islands around Phuket is to book a private charter. If you're coming with a big company you will be able to choose from speedboats, yachts and catamarans. The most popular option is Princess 42, a yacht that accommodates up to 12 people and provides privacy at the same time.
Prices vary according to the season, and what kind of package you are looking for. For example, a diving experience package in Ko Phi Phi will be quite expensive, compared to just a day visit, as it will include all diving equipment, and so forth. There are many combinations to choose from activity wise, so its based on your personal preference.
Another way to travel these Islands would be to plan it all yourself. You will have to book your ferry/boat tickets from a travel agent, get yourself to the pier (Rassada Pier Phuket for Ko Phi Phi), book your guesthouse on the Island, and take your own snorkelling equipment, etc. If you do your research this way is always the cheapest way to travel to these Islands.
Buses, minibuses, taxi's and tuk-tuks are available options to get you from your place of stay to the ferry/boat departure area, and also for when you return. Most of these transport options won't cost you more than 300 – 500 baht ($14) max, in the Phuket area.
When you arrive on the Islands, depending on which ones, you can rent a bicycle or scooter for a day or two to travel around. Some Islands are too small that they don't offer this, and you can virtually walk the Island. Alternatively, you can be taken around on a long tail boat.
Phuket to Phi Phi Island
To get from Phuket Island to Phi Phi Island, you head to either of the piers Rassada Pier Phuket or Sea Angel Pier Phuket by bus or taxi. This can cost anything from 100-400 baht depending on where in Phuket you are coming from. Get a ferry, cruise boat or speedboat from there to the Island. Pricing varies, as usual, depending on preference and seasons. The crossing shouldn't cost more than 600-1000 baht ($25)max, and that is a return trip. Ferry crossings from Phuket to Phi Phi Island are in the morning to mid-afternoon only.
Phuket to Koh Samui
If you are in Phuket and want to head out to the Island of Koh Samui, you have a few travel options.
Flying from Phuket to Koh Samui
Flying from Phuket International Airport to Ko Samui Island is a 55-minute flight. Nonetheless, this is the most expensive way to get to the island. In high season you are looking to spend around 3000 baht ($85) to 6500 baht ($185), and half of that or lesser in the low season. Koh Samui is definitely one of the most beautiful airports in South East Asia.
Ferry to Koh Samui
A cheaper option would be to catch a bus and ferry from Phuket Bus Station Terminal 2, which takes around 7 hours. You will be looking to pay between 450-600 baht ($10-15), ferry included. The whole journey usually takes 45-50 minutes from the port. There is no train service to or near to the Island of Koh Samui.
There are daily flights, buses and ferries across to Koh Samui. However, be sure to check online the timetables for peace of mind before booking.
Phuket to Koh Lanta
Travelling from Phuket to the beautiful Island of Koh Lanta, you can head over to Phuket Bus Station Terminal 2, for a 6-hour bus ride. The ticket will cost 600 baht ($15), inclusive of the ferry crossing.
Phuket to Krabi
Krabi is located on the west coast of Andaman Sea on the opposite Phuket and it's the second most popular destination in Thailand.
Phuket to Krabi by Air
If you are planning to head out to Krabi from Phuket, you can fly from Phuket International Airport to Krabi Airport, usually takes 3.5 hours due to having a stopover. Prices vary on seasons and day of the week.
Phuket to Krabi by Taxi
Perhaps you prefer a more private chauffeur service, then you can choose a private car to take you there. It costs approximately 2500 baht ($70), this is by far the most expensive way and the journey is roughly 170km.
Phuket to Krabi by Bus
Alternatively, head to Phuket Bus Station Terminal 2, and catch a bus to Krabi. The price is around 200 baht ($5), for an air conditioned bus, and duration takes about 4 hours. There are at least ten departures a day. If you want to save even more money, you can take the non-air conditioned bus. It costs 85 baht ($2) but be warned, with the climate of Phuket, it's advisable to go for air con.
Phuket to Krabi Ferry
There is a ferry going from Phuket to Krabi and vice versa. It leaves every morning from the Rassada Pier and arrives at Krabi Town. The whole journey takes close to 9 hours and costs from 700 baht – 1000 baht($20-$30 dollars).
Travel to Phuket and back
It's simple to travel to and from Phuket. The main four most used travel options are flying, bus, train and ferries. The biggest problem you may face is ticket availability. Thus, it's best to book well in advance.
There are many agencies, tour operators, travel agents and independent travel firms to choose from. Do your research, plan ahead, and it will save you time and money. It will also give you peace of mind to where ever you choose to travel to and from.
In most cases, creating your own travelling plans, without going through a tour operator, for instance, can save you up to half, even more depending on circumstances.