Where to See the Wildlife on San Cristobal Island, Galapagos
Wednesday, August 24, 2016
Wildlife and Animal Trekking
by
admin
The Galapagos Islands are famous for its wildlife and especially its endemic animals. Many of these Galapagos animals can be found on or around San Cristobal Island at the below locations.
Welcome to San Cristobal Island: Puerto Baquerizo Moreno
Puerto Baquerizo Moreno is located on the southwestern coast of San Cristobal and is the capital of The Galapagos province.
But it's also the capital of something else: The Sea Lion Capital of The Galapagos, maybe even the world, depending on whom you ask. The sea lions can be found everywhere along the coastline in Puerto Baquerizo Moreno. They're on piers, benches, docks, steps between docks and piers, under shipwrecked boats, and as always – the beaches.
Beaches Playa de Oro and Playa de los Marinos are directly in the centre of the town along the malecon (main walkway along the coastline in Latin America) or Charles Darwin Avenue. These two beaches are dedicated more towards sea lions than beach bums.
Along the malecon you can sometimes see pelicans or blue-footed boobies fishing or resting. Occasionally the marine iguanas are there soaking up the sun.
The beaches of Playa Mann and Playa Punta Carola are less than a twenty-minute walk away from the centre of town. Here you can lie lazily on the sand with sea lions. Or get in the water where young sea lions play with you. Playa Mann is a favourite spot to watch the sunset while sea lions come ashore to sleep. Bring your beach towel. There's a great view of the horizon and sun.
Playa Loberia
Playa Loberia is not too far away from Puerto Baquerizo Moreno. It's about a forty-minute walk or a two-dollar taxi ride. As the name suggests in Spanish, it is a sea lion beach. You can still bring your beach towel here.
Playa Loberia is more beautiful than Playa Mann and Playa Punta Carola, because there is no view of boats or man-made structures. And it has fewer tourists unless an occasional tour group comes.
There's more to see than sea lions at Playa Loberia. Beyond the beach, there is a lava rock hiking path. The hike has a moderate level of difficulty due to the large lava rocks you'll have to skip over, and it takes about 50 minutes to go and return. Flip flops aren't recommended for this hike.
The area the hike covers is home to several marine iguanas. They camouflage well with lava rocks, so you'll need to be careful not to step on them (they don't always run away). You'll also see several bird species but the most prominent are the lava gulls.
Cerro Tijeretas, or Darwin's Bay
A favourite spot for locals and tourists, Cerro Tijeretas (Frigate Bird Hill) is a thirty-minute walk from the centre of Puerto Baquerizo Moreno. It's unofficially called Darwin's Bay because it's the first place in The Galapagos Charles Darwin walked.
At the hill itself, you can find several frigates flying or resting on the trees. But Cerro Tijeratas is more famous for the bay down below. With no sand, this lava rocky shore is one of the best places to snorkel in the Galapagos. And it's free.
You can often snorkel with sea lions, marine iguanas, sea turtles, and plenty of colorful fish.
A spectacular view to see are the endemic marine iguanas eating underwater. Sometimes above the surface, there are blue-footed boobies diving into the water to fish. Stingrays and sharks also make the rare appearance here.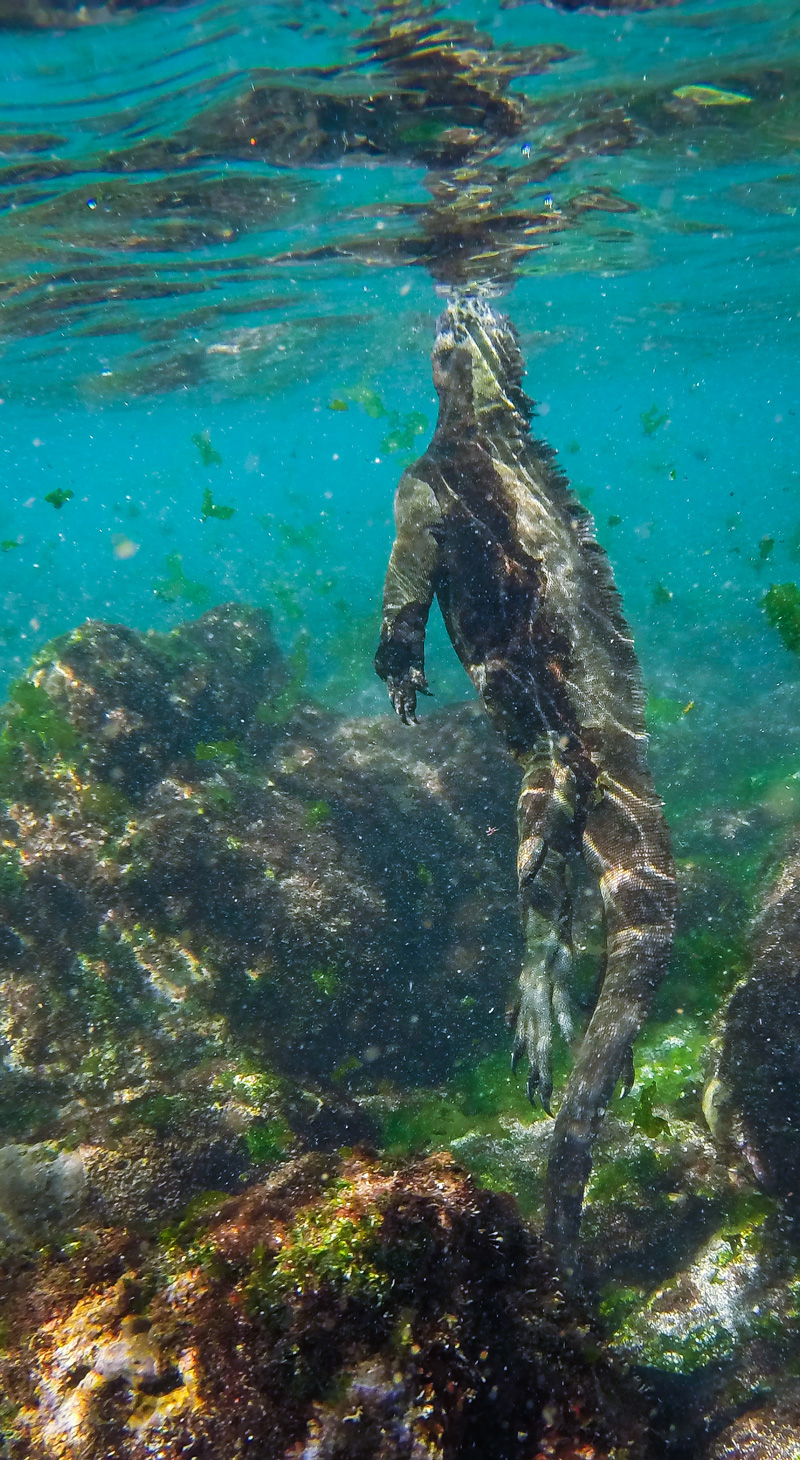 Kicker Rock
Two vertical rocks ascend from the water and soar into the sky. This volcano-made rock architecture is a popular site in the Galapagos and is located off the southwestern coast of San Cristobal Island.
You can find frigates and masked boobies flying around. Sometimes you can even swim with sunfish.
What's beneath the water surface is the real reason Kicker Rock lures people. There's a great chance to see the big boys: hammerhead sharks. There's a better chance to see them if you scuba dive than snorkel.
Down below you can also see the Galapagos Sharks, eagle rays, white-tipped and blacked tipped sharks, and sea turtles. Sea lions will swim curiously around you.
While on a moving boat, and if you're lucky, bottle-nosed dolphins will jump out of the water right in front.
The daily snorkel and dive tours (2 dives) start at $110 and $160 respectively and can be purchased at several dive shops in Puerto Baquerizo Moreno. However, you can usually get them at $90 and $140, especially if you are with a group. The tours usually include snacks, drinks, lunch, and a visit to a secluded beach that is not accessible without a tour guide.
Punta Pitt
Punta Pitt is in the northeastern part of San Cristobal and is mainly known for one animal: red-footed boobies. They're not found anywhere else on San Cristobal because the small fish they eat are only found in the north.
However, you can find all three booby species (blue-footed, red-footed, and masked) and get pretty close to them. Frigate birds are close as well and you sometimes see them prey on the chicks of boobies.
There are no roads to Punta Pitt; you get there by boat. Tours to Punta Pitt go a few times a week. Make sure to do a tour that includes the hike on Punta Pitt. The snorkel and diving tours to Punta Pitt cost roughly $130 and $170, respectively.
There is also the 360 tour of San Cristobal Island that takes you around the island including Punta Pitt, but this is a fishing tour. You never set foot on Punta Pitt and get close to the boobies.
Galapaguera
The Galapaguera or The Giant Tortoise Breed Center is located in the Cerro Colorado area near the southern side of San Cristobal Island. As the name suggests, it's a conservation effort to reintroduce more giant tortoises back in the wild.
At the breeding center you can get pretty close to the tortoises and take some decent photographs with them. You'll also have the chance to see baby giant tortoises if this even makes sense. The Galapaguera is about a thirty-minute taxi ride from Puerto Baquerizo Moreno. Daily tours are offered to Galapaguera where you also visit El Junco crater and Puerto Chino beach. It costs $30. But it's better to get a group of people and share a taxi. The taxi guy will take you to El Junco, Galapaguera, and Puerto Chino for about $60 or $70 round-trip. Plus you can see frigate birds diving in El Junco's Crater Lake to oil their skin. Puerto Chino is a refreshing and tranquil beach. Make sure to bring plenty of water and snacks; there are no restaurants or stores at these sites.
It's difficult to see giant tortoises in the wild on San Cristobal Island as most of them are in the northern part of the island, not in view, and no roads going north. There is another Galapaguera in the north which is only accessible by boat via a tour.
Remember, this is The Galapagos. Every day is different. You'll never know what you'll see, so always have the shutter button ready.
Important: Even though travellers can get close to animals, there is a minimum distance of 2 metres that should be kept between wildlife and humans; sometimes it can be unavoidable. And never touch the animals or use flash with cameras.