Where to Stay in Georgia – Travel Guide on Unique Stays
Saturday, July 10, 2021
Accommodation
by
Ani
Set on the coast of the Black Sea and the land of high mountains, modestly-sized country Georgia is a place of mesmerizing nature, antique history, vibrant culture, hospitality, and traditions. Tourism is booming in the country in all seasons bringing various travelers to enjoy a remarkably diverse mix of landscapes, heavy dose of culture, and contrast of medieval and contemporary architecture. Due to increasing demand on an international tourism market, Georgia is introducing more and more accommodation options varying from luxury hotels, unique stays in cabins, economy guest houses, lodging in mountains and so much more.
Whether you are looking for a refreshing stay in a picturesque village, a perfect family villa on top of snow-capped mountains, or an ideal getaway in the highest inhabited region of Europe, the country can offer it all. Georgia has many different regions and all of them come with their own features and attractiveness. Therefore, you can browse through individual regions and options to where to stay in Tbilisi Georgia, in the Kakheti wine region, in Gudauri Ski resort, in Batumi seaside resort, or at remote locations up in the mountains. We will cover all the best places to stay in Georgia country including quaint bed and breakfasts, wooden cabins, glamping sites, lakefront stays, luxury hotels right in the middle of the sea, campgrounds and etc.
Castello Mare Hotel & Wellnes Resort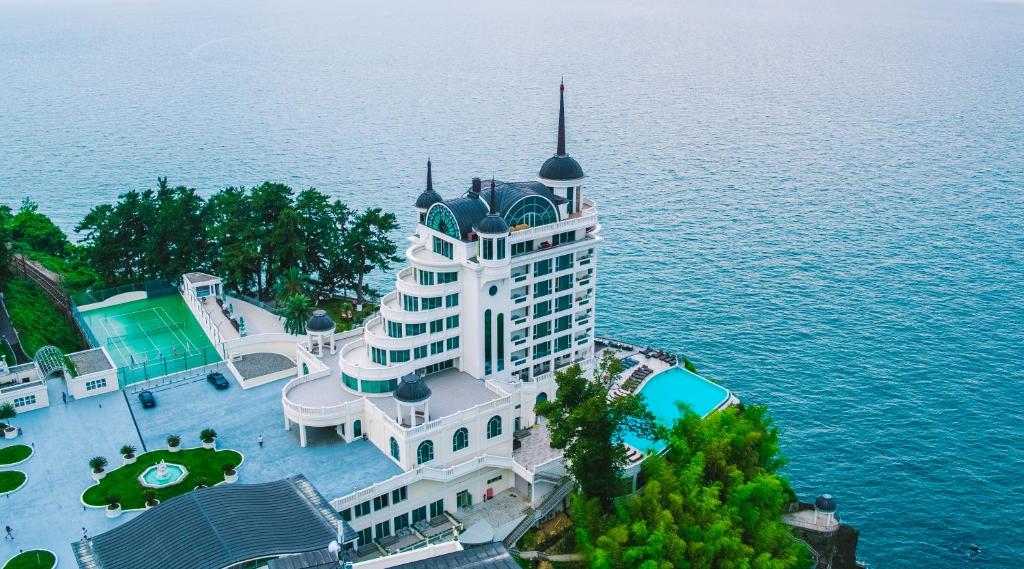 One of the best seafront hotels, Castello Mare Hotel & Wellness Resort consists of three separate buildings and represents one of the largest seaside complexes in the country. The resort comes with a private beach area and an infinity pool overlooking the sea. Guests at Castello Mare can enjoy spa facilities, an indoor pool, a tennis court, and a fitness center. This hotel was renovated few times and nowadays offers luxurious accommodation options to families, single travelers, and couples with each of the rooms at the hotel boasting a sea view. Visitors at Castello Mare can enjoy numerous activities both on the hotel's location and off-site. They can travel to Batumi, a vibrant beach resort of the country located just 19 km from the hotel. The Batumi International Airport is the nearest airport to the hotel within just 15 kilometers drive.
Paragraph Shekvetili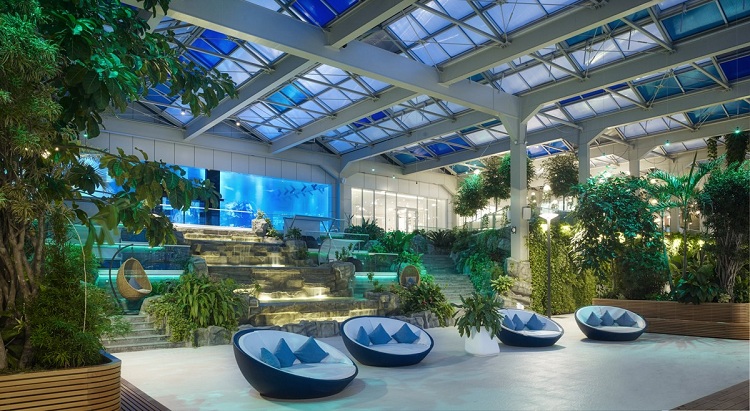 Paragraph Resort & Spa, Shekvetili is the newest addition to the list of the best beach hotels in Georgia. It represents a unique stay with a fusion of sea and forest landscape situated in a relatively remote spot at the Black Sea coast. The design of the Paragraph hotel is one of the features that tourists can't stop adoring presenting a new paragraph in the history of fabled Georgian hospitality. You can walk through the ancient pine tree forest, which fully belongs to the hotel, or visit a one of its kind walkthrough aquarium. Guest can also enjoy the spa center, tennis courts, indoor saltwater pool, and an indoor waterpark. Due to its exotic and eccentric design, features, and extraordinary service Paragraph Resort and Spa is often a spot for large social events, concerts, weddings, and business gatherings.
Mtserlebi Resort in Kvishkheti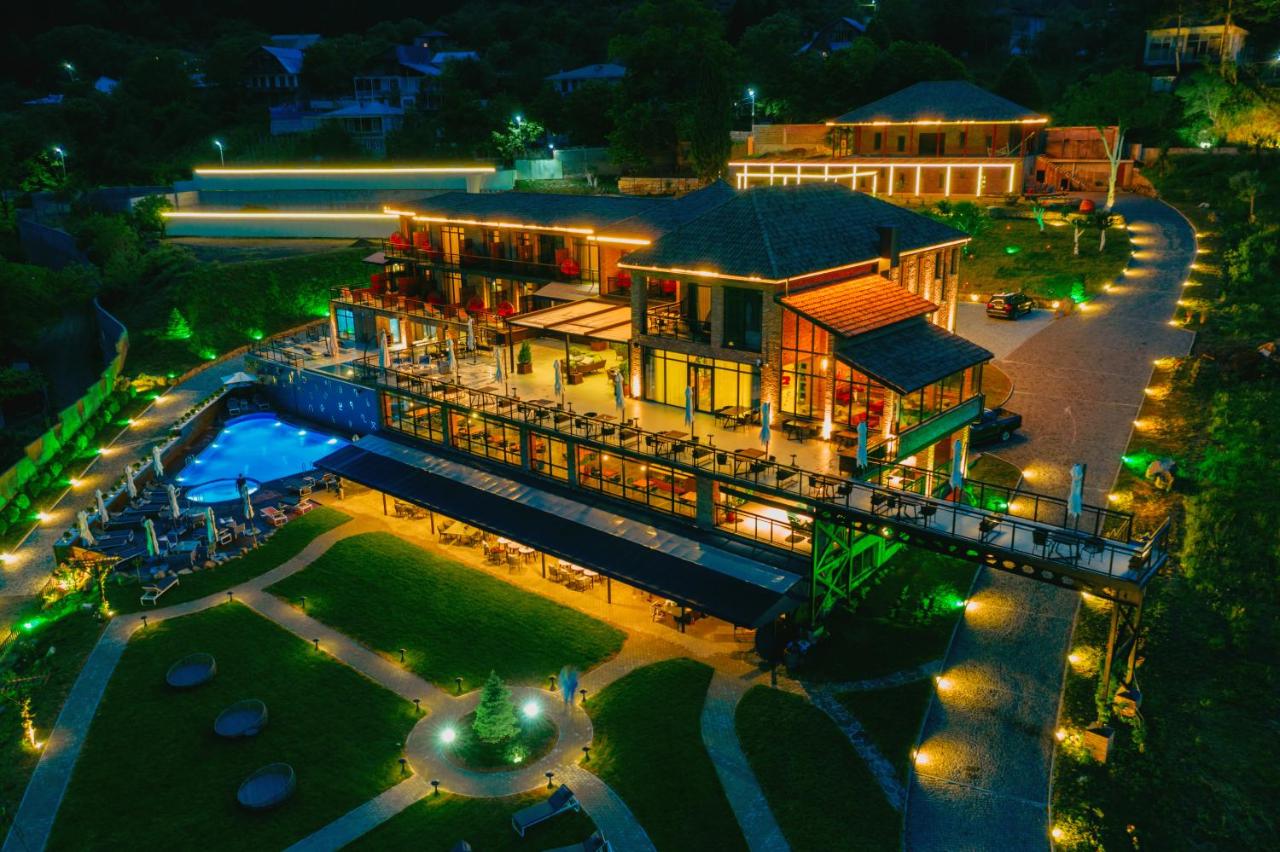 On the east bank of the Likhi mountain range, 750 meters above sea level, Eco-resort Mtserlebi Resort is an innovative concept representing a world-class accommodation option along with exceptional service and signature design. It is the very first Georgian hotel to be classified by Horeca Georgia as a five stars hotel. The village Kvishkheti has a magical climate, which makes it one of the primary destinations for medical tourism. For that reason, many notable figures of the country, especially writers visited Kvishkheti in the 19th and 20th centuries and that is where the name of the resort comes – Writers' Resort ("Mtserlebi" means Writers). The hotel does not offer many rooms, however, all of its 20 suites are individually crafted beautiful compositions of classic style. The guests can also enjoy a seasonal outdoor swimming pool, garden, and terrace access from most of the rooms.
Crowne Plaza Borjomi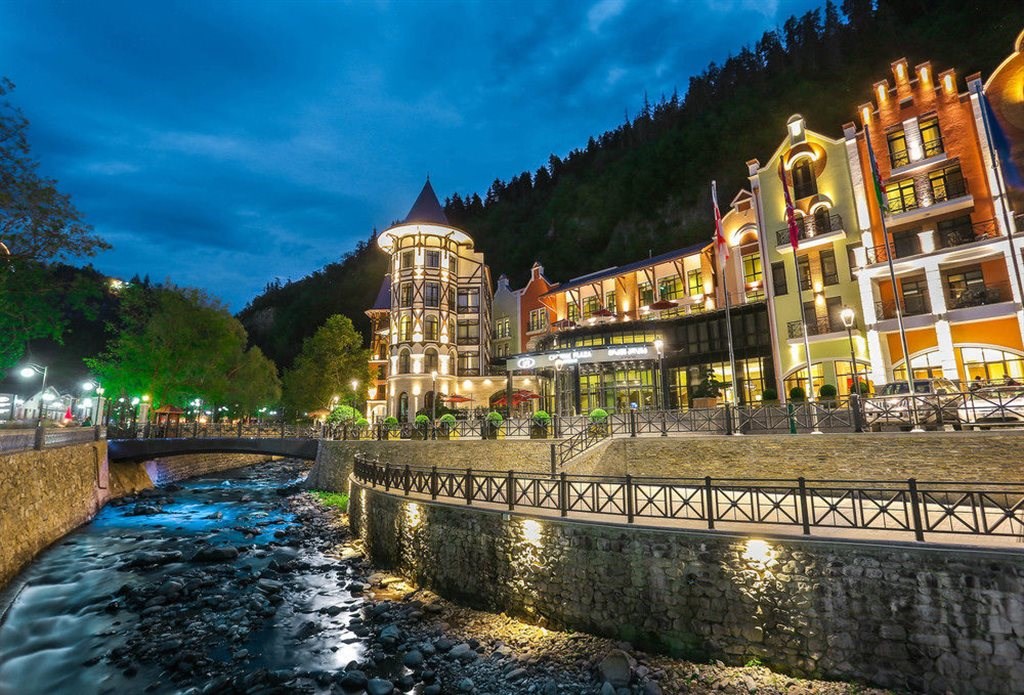 Crowne Plaza Borjomi is one of the best destinations for pure recreation. The hotel features one the largest spas in the region – covering over 2,400 square meters. Here you can indulge in a calming massage or in the steam bath, or start a day with free sunrise yoga sessions. You can also meditate in harmoniously illuminated quiet zones scattered across the vast territory of the resort. Crowne Plaza Borjomi is set right amidst green surroundings where guests often set of on leisure works or sign up for cycling tours. The popular Park of Borjomi within a few minutes' walk from the hotel, which you can access without any extra cost. There are numerous relaxing treats available at Crowne Plaza Borjomi including a swimming pool, spa baths, mineral water baths that are unique to the region, aesthetic care for your body, and a Natural Spring of Borjomi right in the Crown Plaza garden.
Glamping in Racha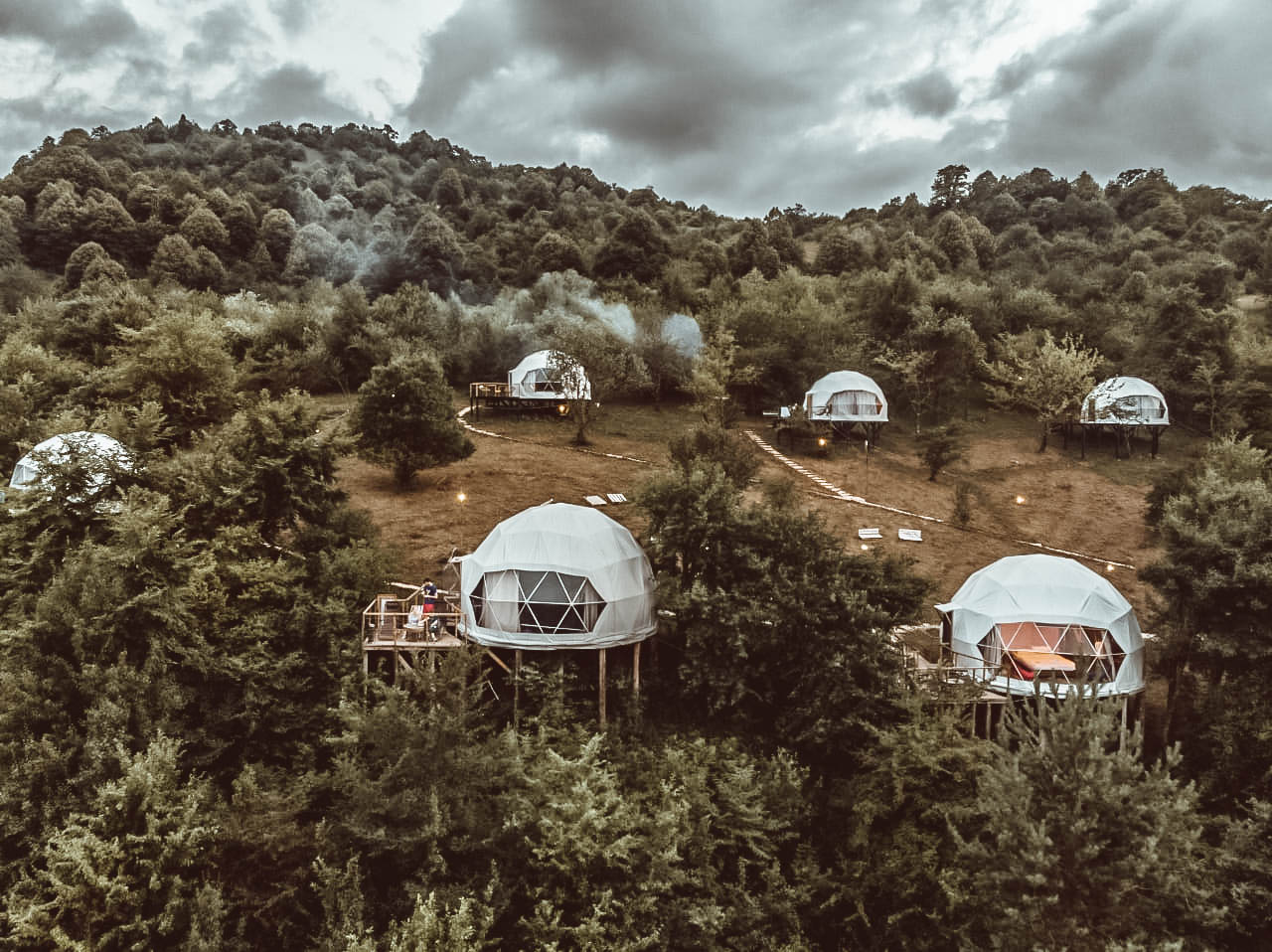 Glamourous Glamping Georgia is a luxury tent accommodation found in one of the most beautiful mountainous regions of the country – Racha. Developed with concepts similar to glamping sites in Switzerland and Australia, glamping stays in Racha promise unforgettable views, comfortable and extravagant rooms, and a one-of-a-kind experience. Every room at Glamping Georgia comes with a full set of necessary amenities, as well as a mini-cinema, air-conditioning system, and a terrace with a view over the vast mountainous landscape of Racha. Luxury tents are conveniently located at Kvemo Krikhi in Ambrolauri in just 2 km from the center. These camps offer both buffet and American breakfast. Guests can go for a cycling tour or fishing, as well, nearby their accommodation.
Duende Treehouse & Cocktails in Lagodekhi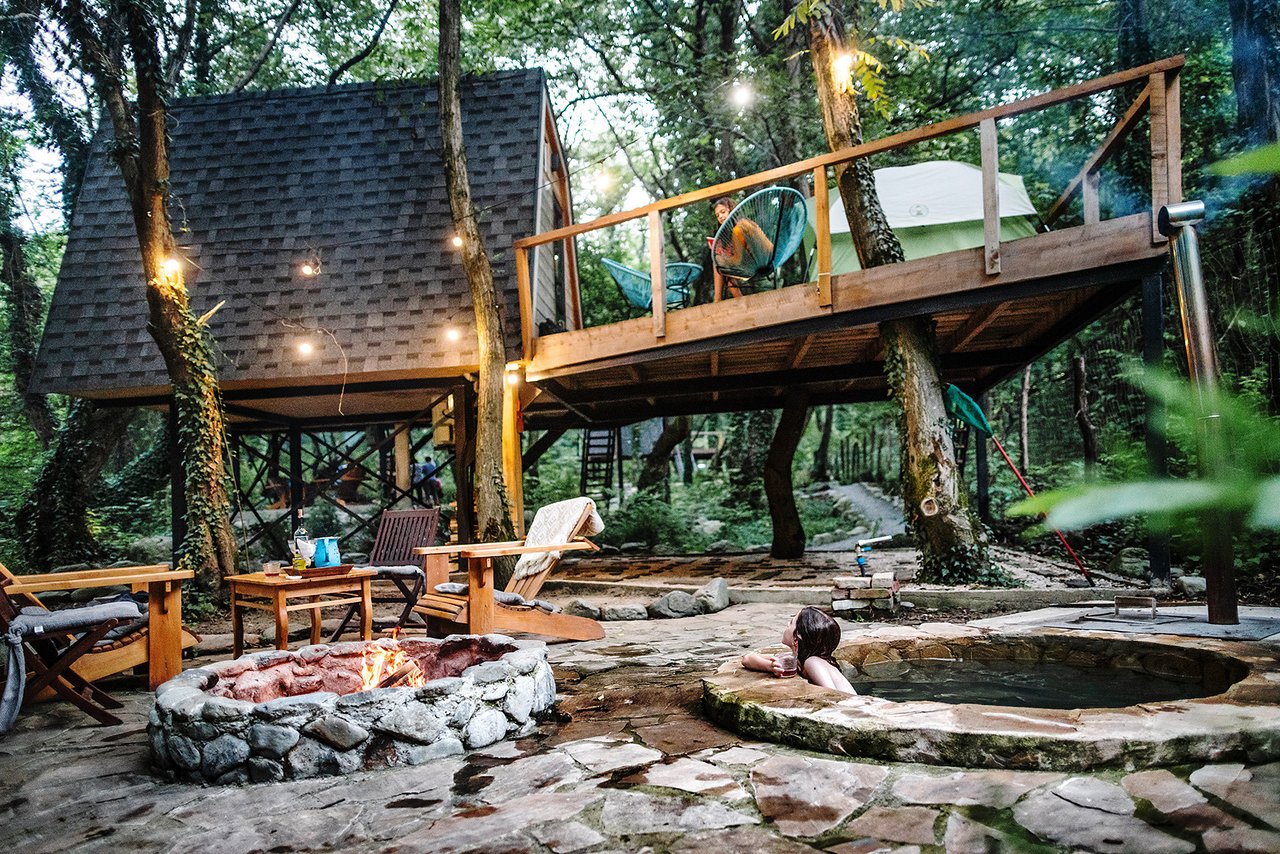 Located in the most serene atmosphere of the forest, Duende Treehouse and Cocktails is a subtropical and luxury treehouse accommodation right on the border of the Lagodekhi National Park. Sculpted by the river and surrounded by trees older than 100 years a boutique glamping property offers thoughtful design of the stays which respects flora and fauna of the Caucasus region. There are four cottages available that combine modern and Latino decor with private open-aired spaces, hot tubs, and firepits.
ROOMS Hotel Kazbegi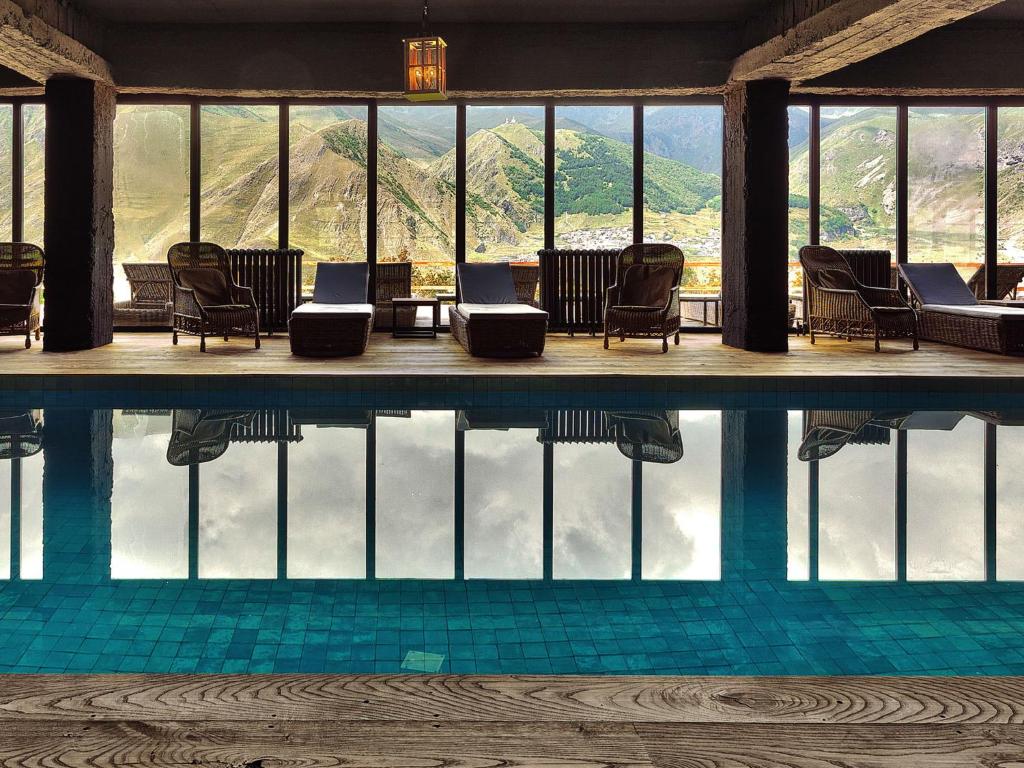 Another favorite getaway destination up in the Caucasus mountains is the Rooms Hotel Kazbegi. It is a luxury boutique hotel from a local chain of "ROOMS Design Hotels". There was a Soviet resort where ROOMS stands today with a modern and industrial-style interior. The hotel offers a high-class restaurant with traditional, Asian and European cuisine. It comes with a huge terrace facing the peak of the Caucasus mountains and a seasonal indoor pool with a mesmerizing view, as well. ROOMS Hotel Kazbegi also provides culinary masterclasses, as well as tour to the nearest attraction –  the 14th century Trinity Church set within 7 km from the hotel.