What are the best restaurants in Tbilisi Georgia?
Tuesday, August 31, 2021
Food and drinks
by
Ani
You've found the right place if you're looking for delicious Georgian food and the best places in Tbilisi to eat it. Since I was a teenager, I have been traveling around Georgia eating my way. It's food that keeps me coming back to the Caucasus and it was one of the main reasons I moved to Tbilisi.
What is so special about Georgian cuisine? Georgian cuisine is full of interesting contradictions and contrasts. Red meat, dairy, and carbs are prominently featured on the menu. However, they are offset by the generous use of spices, aromas, fresh herbs, and aromatics.
Georgian cuisine is a result of its Mediterranean-like climate, diverse topography, incredible ethnic and regional diversity, and centuries of Middle Eastern, Asian, and European influences. Georgian culture and hospitality give every bite of food an extra level of flavor.
Georgian cuisine is also very inclusive. Everyone is invited to join us at the table. Many national dishes can be made vegetarian or vegan.
Tbilisi, Georgia's culinary capital, is the ideal place to explore the variety of Georgian cuisines and enjoy some of the best modern restaurants in the country. Let's find out what this city has to offer food-lovers and gourmets.
Kakhelebi Beliashvili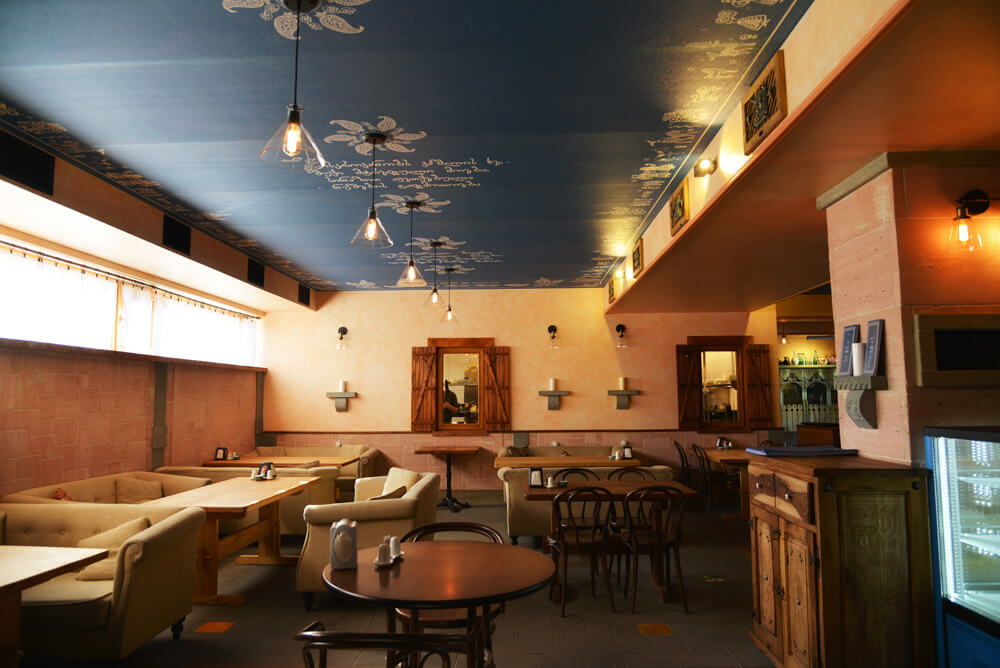 Kakhelebi is a restaurant that specializes in Georgia's eastern Kakheti area, where its owners are from. Their farm supplies a lot of fresh organic produce and meat, while their house wine is made with grapes from their 1955-established vineyard. On-site, Puri bread is made.
Three things are on the menu: Plenty of salads (try the sorrel and dehydrated strawberries salad with pomegranate and pomegranate), traditional soups and mouthwatering meats (Mtsvadi, slow-roasted pork, slow-roasted chicken, and kebab). This is hands down the best Mtsvadi barbecue Tbilisi has to offer!
Kakheti is home to many Georgian desserts made with stone fruit and grapes. You'll find plenty of sweets here (quite rare in Tbilisi). The homemade compote they make is delicious.
This is a place that few tourists visit. The restaurant is located past Didube Station. You can take bus 46 to Liberty Square. If they do venture north, they will go to Ethno Takiskvili. Kakhelebi's food is my favorite. Upstairs you will find a balcony and sit-down dining. You'll also find a cafeteria and a take-out bakery downstairs. It is always packed at lunchtime.
Shemomechama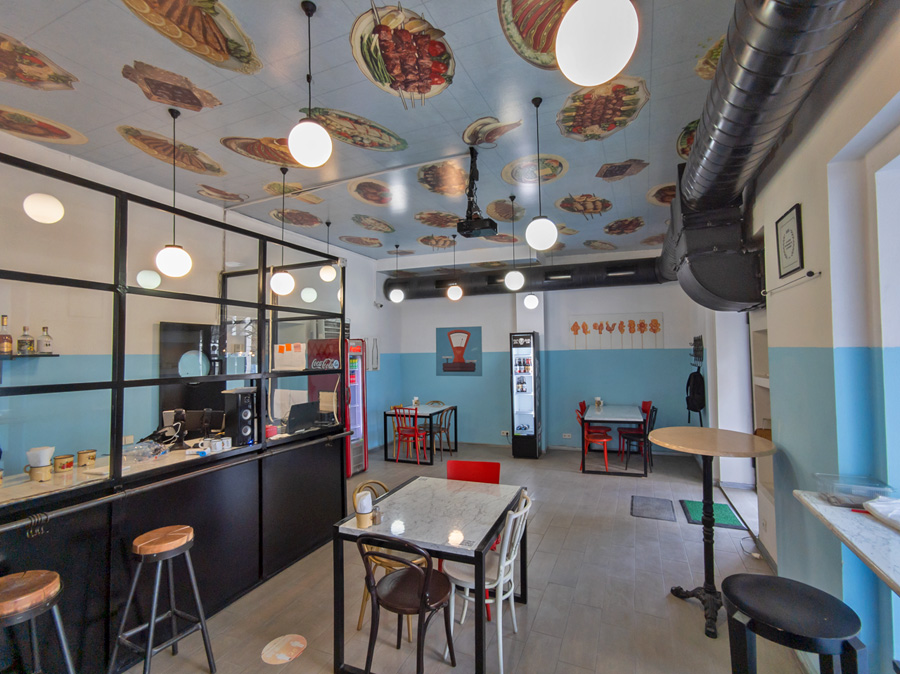 The word Shemomechama in Georgian means "I accidentally ate the entire thing". With so many delicious foods available, it's easy to indulge (accidentally and intentionally).
The open-kitchen kitchen at both Shemomechama restaurants allows you to watch the food being made. The chefs can also see your delight as you enjoy Tbilisi's finest Khinkali. As you can see, the dumplings are made by hand and boiled according to your order. It's well worth it. Top-quality dishes include grilled meats, classic tomato and cucumber salads, and Chvishtari Cornbread (which is only available at the Old Town Branch).
The quirky names of the dishes are what I love (e.g., Uneducated Khinkali). The Vake restaurant looks Soviet-style, a little like the milk bar in A Clockwork Orange.
Amra

Amra, Tbilisi's original Abkhazian restaurant opened in 1956 in Sokhumi (the seaside capital in far-western Abkhazia). The owners of Amra, like many families, were forced to leave the country after the war in 1990. Later, they relaunched the popular restaurant in Tbilisi.
Look no further if you are looking for delicious food. You can make Abkhazian Adjika in many different ways, and it's a speciality. The Adjika crust oven-baked chicken is my favorite. It has a mild heat. Tbilisi's Adjika burger is one of my favorite burgers. The 'Scotch Egg' is another must-try. It's a boiled egg that has been sliced open and then filled with walnut paste. Finally, it's topped with fresh Adjika.
After a long day, cool off with a scoop Sokhumi-style Ice Cream. It is served with crushed nuts and citrus marmalade.
Duqani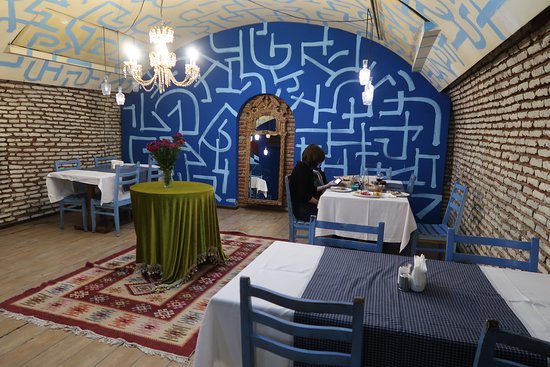 Duqani is a modern version of traditional taverna-style eateries (called "duqan" or "duqani") that once were found all over Tbilisi. I love the friendly staff and keep coming back to this place. Once, we were treated to an impromptu tasting their Chacha.
The subterranean brick dining area is located just off Rustaveli Avenue. It's cool in summer, and cleverly decorated with Pirosmani-inspired murals. The menu includes classic Georgian cuisine, including Mtsvadi and Pasanaurian Khinkali. Also, there are Pkhali (vegetable/walnut spreads) and some salads. The Chikhirtma Chicken Soup is my favorite. It's wonderfully zingy.
Duqani is an excellent place to enjoy Khashi Tripe soup. You don't have to order a full bowl of Khashi tripe soup. Instead, you can order a 'Khashi Express.' This is a mug of broth with a shot Chacha and some crushed garlic.
Chashnagiri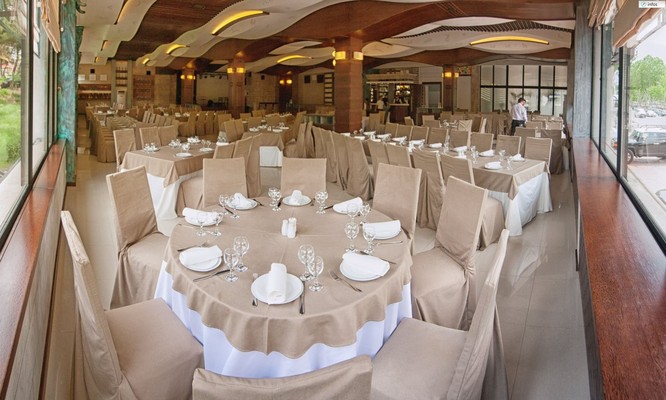 Chashnagiri offers a unique local experience. Although the English pub meets sports bar vibe is somewhat strange, it is always electric.
This is a great place to eat in Tbilisi. It's affordable and offers a variety of delicious food. The Shkmeruli (mini Khinkali) are my favorite. The best pork Mtsvadis are also available in Tbilisi. We took our Georgian friends there once, and they agreed that it was the best they had ever tasted.
Chicken BBQ is a delicious, light-charcoalled dish that's moist and tender inside. It's served with pomegranate syrup on the top.
Rachis Ubani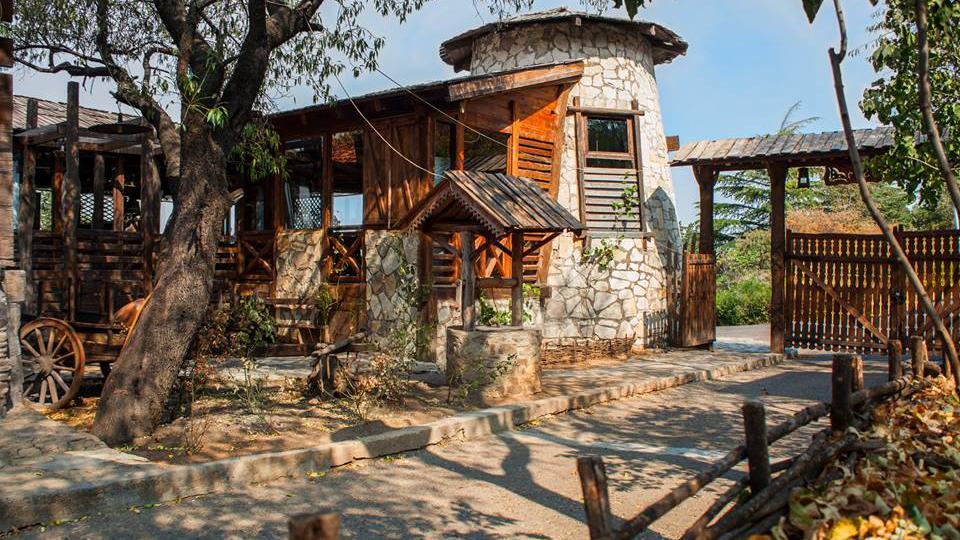 Rachis Ubani, the ideal place to stop for lunch if you are planning on visiting Turtle Lake or Open Air Museum of Ethnography. It is hard to beat the panoramic view of the city from the veranda.
The food is delicious and home-styled. This is my favorite Tbilisi eggplant with walnut. The menu features a lot of Racha specialties, so Shkmeruli or Lobio with Ham are must-trys. Also, the BBQ Mtsvadi has excellent food.
You feel completely immersed in nature as you sit on the balcony of the cottage made from wood. Even if the museum is not nearby, it's worth the trip up the cable car to enjoy the views and escape the city for a while.
Chveni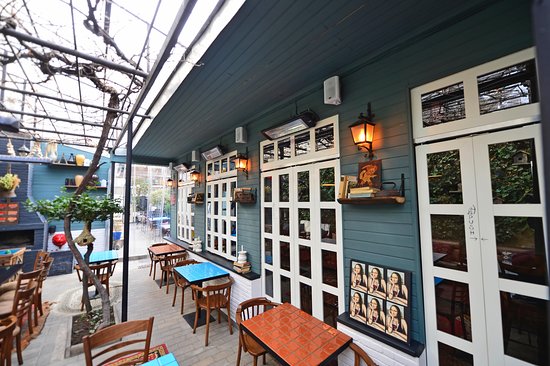 One of Tbilisi's most beautiful facades can be found in the pedestrianized, renovated Agmashenebeli Avenue. I find the cafes and restaurants along this street a bit too touristy. I recommend that you avoid this area of the city, or the nearby Dry Bridge Market, and instead go down Chveni Street.
Chveni is a small hostel that also has a restaurant at the bottom. The hostel is small but beautiful, featuring sun-drenched tables and an open bar. There's also an outdoor wood-fired oven. Award-winning chef interprets traditional Georgian flavours in a completely unique way. You can choose from chicken balls with Shkmeruli, Ghomi (walnut) balls, Lobio balls, Jonjoli sauce or Elarji and Kuchmachi (yogurt) balls. It would be a great dessert!
This restaurant has a huge menu, including a sushi section and many Asian dishes. The only place I have seen Meskhetian Khachapuri served with pulled Tenili Cheese is this restaurant.
Republic 24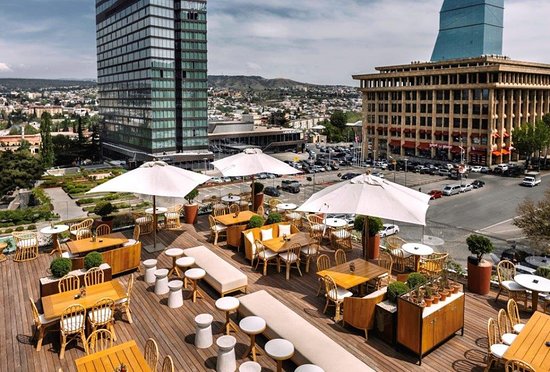 Republic 24 offers a unique dining experience. Diners can enjoy a unique dining experience in a modern glass box building, near Rustaveli metro station. They look out onto the busy street and see the Radisson Blu (formerly Hotel Iveria).
This restaurant is well-designed and offers excellent service. Although the prices are slightly higher than other restaurants on this list it is still a good value.
The stuffed Pkhlovani is my favorite. Khinkali at Republic 24 is well-known for its delicious and tasty food. There are many varieties, including one that's Asian-inspired and comes in a bamboo steamer bag.
Keto and Kote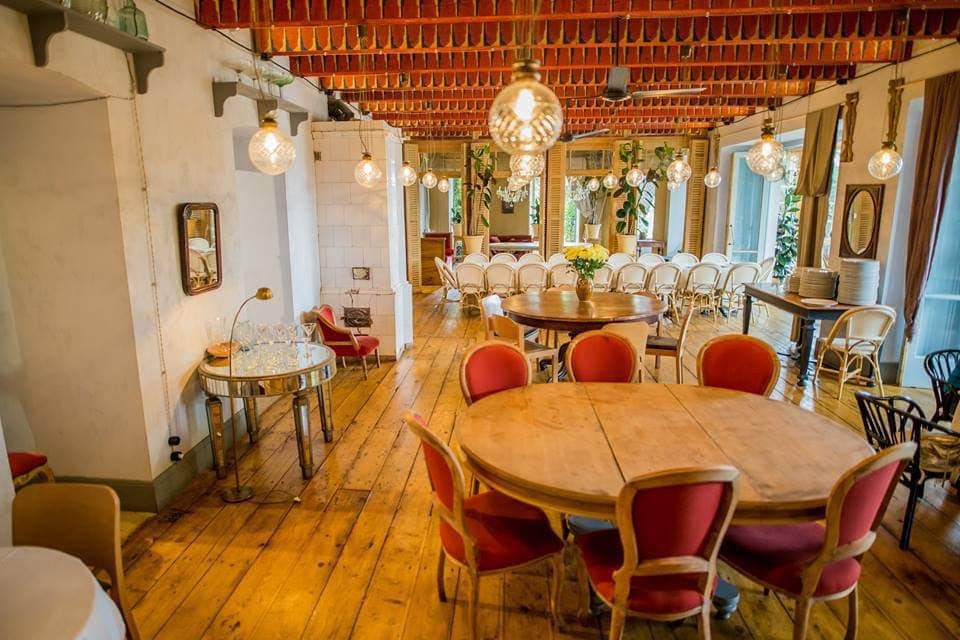 To find the entrance to Keto and Kote, it takes some detective work. You will need to go north from Rustaveli Metro Station. Next, duck through an archway and then descend an alleyway before finally climbing up a flight of stone stairs. Enjoy the magnificent views before you enter.
Keto and Kote gets its name from a popular Georgian opera. The setting, a Tbilisi-style house featuring carved balconies and traditional Tbilisi-style home, harks back at the country's Golden Age. You'll find a table with fresh tarts and cakes as you enter the restaurant. This is a sign that good things are ahead.
Keto and Kote is all about class. They have hardwood floors, chandeliers, and tables covered in lurji supra-blue tablecloths. It's fine dining at night. But I have also had lunch there a few times. The vibe is relaxed during the day.
Megrelian-born chefs are known for their Western Georgian specialties, such as Elarji and Gebjalia. Keto and Kote creates a delicious rendition of a classic Georgian dish, complete with walnut paste and a slab cheese.
Sofiko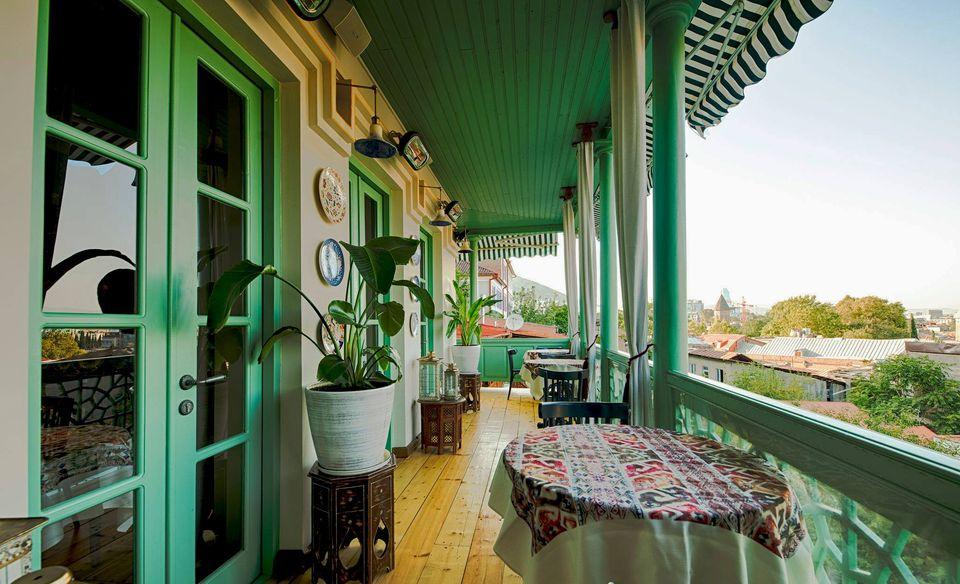 It is located in an apartment high above Old Tbilisi's sulfur baths and Meidan Market. Sofiko, formerly Ah Turpav-Turpav, and before that Meama, offers stunning views from its twin terraces. They are perfectly aligned with Sameba Cathedral, just over the river. Although it is a steep climb to reach this restaurant, it is well worth the effort.
The inspiration for this restaurant comes from the 19th-century bohemian "Old Tiflis". The Georgian classics are complemented by European-style dishes. The table settings, porcelain bowls, and creative presentation are all top-notch.
Kuchmachi, Ojakhuri and Tolma (a personal favorite!) fall under the 'Ethno" menu. Mains include trout, Adjika short ribs, duck with mulberry, and pork in white wine sauce. The dessert selection is my favorite, with Pelamushi (a sweet made of wine jelly, similar in Churchkhela), and Korkoti (a traditional treat made from honey, raisins, nuts and cognac).
Barbarestan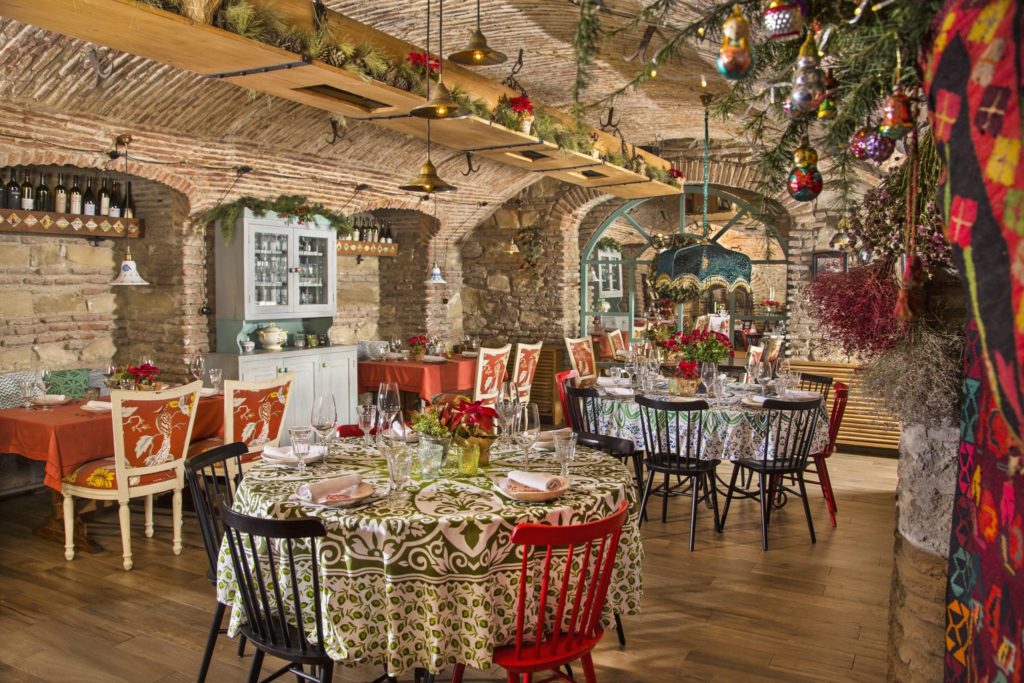 Barbarestan is not only one of the most popular restaurants in Georgia but it has also been ranked among the top 50 restaurants around the globe. This place exudes elegance and refinement from the silverware, the tablecloths, and the well-dressed waiters.
This is a very intriguing concept: The chefs here get their inspiration from Barbare EristaviJorjadze, a Georgian poet and duchess who published Complete Cooking in 1914. Barbarestan recreates her most beloved recipes with fresh seasonal ingredients. Fast forward a century.
The old butcher shop is where the dining room is located. You can still see the old meat hooks along the walls. You can choose from intimate basement dining or an open upstairs space that looks like Mrs. Jorjadze's home office. There are natural light, indoor plants, and Caucasian carpets.